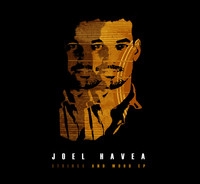 Joel Havea clearly loves the blues, and similarly loves the guitar. Strings And Wood is his latest EP, and it's all about the guitar, baby.
Mini documentary/EP preview on Youtube:
https://www.youtube.com/watch?v=P4rijvyBGew
Kicking off with 'Going Gone', it's a spunky, folky blues track with flashes of Stevie Wonder. As a three minute pop song, it's over before you know it, which is always the sign of a catchy tune.
'Simple Things' is somewhat more down tempo, giving Joel Havea's voice the chance to shine and really let his character and tone come through. The sliding notes have at points a touch of Jack Johnson – summery and caribbean in feel – and the instrumentation is delicate, thoughtful and entirely relaxing.
Stream the full EP in advance via Soundcloud:
https://soundcloud.com/joelhavea/sets/strings-and-wood-ep
Playing it painfully cool, 'Going Through The Motions' features some gorgeous harmonies, splashes of organ, and vocal lines that at points touch on the aforementioned Stevie Wonder's 'Superstition'.
'My Wings' is a track that has got strings and isn't afraid to used them. The whole flying metaphor feels a little overused these days and makes the track's story and message feel a little flat, which is a shame as if the melody actually got off the ground it might help generate a stronger sense of emotion.
Joel Havea's Strings And Wood EP concludes with 'Fading Away', a funky track underpinned with a sexy double bass, giving a subtle nod to Diana Ross' 'Upside Down', or anything my Jamiroquai for that matter. As the final notes of the closing track ring out, the door closes on a refreshing and relaxing collection of fun bluesy soul music.
By Chris Marsh