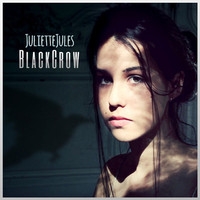 Opening with the impossible confidence of 'Johnny Was', Paris' own Juliette Jules immediately shows off her abilities as a young singer-songwriter. Perfectly matching sparkling piano and shuffling drums with Jules' spectacular voice, it's clear that this is a musician deserving of great things. Sounding like Lana Del Rey with a sense of humour, she carries a tone to her voice vastly beyond her young years, and her voice bears the potential to excite the listener with the potential to be found as she develops further.
Stream the EP, due May 23rd, in full::
https://soundcloud.com/juliettejules/sets/black-crow-ep and Bandcamp:
http://juliettejulesmusic.bandcamp.com/album/black-crow-ep
Title track, 'Black Crow' is a stripped back piece, using a single guitar and long drawn out strings to form a backdrop for the lonely, melancholic vocals, before a piano arrives to offer a sense of companionship. As the track develops, so does Jules' voice, reaching high like the song's eponymous crow flying high towards the clouds.
'The Game' carries more swagger and sway, lolloping along like a chopped up sea shanty, with the feeling of classic folk that leans towards Beth Orton's early work. The cover of 'Hallelujah' feels, sadly, rushed and uninspired – lazy, even. It's a shame because it's a classic track and the choice to use it is entirely understandable as a seminal tune that has been covered so many times.
At points Juliette Jules' voice has a touch of Bjork, with clipped vowels and little vocal idiosyncrasies here and there. Closing with 'To The Mountains', the Black Crow EP draws once more on the sparse beauty it opened with – a vast, dark synth looms in the background, while other instruments dart in and out of the mix. Jules' voice is as confident as it was at the start, always composed and controlled despite at times sounding as if it might just crack at any moment.
This is not a release to be missed this year.
By: Chris Marsh