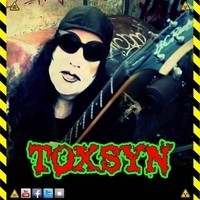 Toxic sludge flowing through the airwaves does sound quite disgusting but ToxSyn is hoping to reach the masses with its infectious sound. Oozing with fist-pumping originality, ToxSyn is ready to make a move & make a statement. Dubbed as an Industrial Goth Rock band, ToxSyn also displays elements of metal & hard rock. One will hear musical & vocal similarities to acts such as: Rob Zombie/White Zombie & Alice in Chains just to name a few.
"Crumble To Clay"
http://www.youtube.com/watch?v=HJpddY5jKP8
The mastermind behind the group is a man by the name of RC Ricci as he and ToxSyn are definitely on a mission.  With hard-hitting guitar riffs, pounding drums and crashing cymbals on the song "Crumble To Clay", you are experiencing in-your-face music with a punch.  And I have to say that RC's vocal delivery works very well with the overall ToxSyn style & approach.  On the track "Be My Evil", Ricci's drawn out, grungy vocals & edgy tone reminded me a bit of the late, great Layne Staley of Alice in Chains.  And then on the third track "Toxic Shock", the listener will pick up on a Rob Zombie/White Zombie influence that rocks hard. On this particular song, ToxSyn is spewing out a sinister performance that exhibits a giant ball of energy.
Hailing from Toronto, ToxSyn has come up with three demos that show promise and have huge potential.  Currently working on an album, ToxSyn is well on its way with these three starters.  When you combine rock, metal, grunge, goth & alternative, you get a toxic aroma that is catchy as hell!  Keep this band on your radar because I feel the best is yet to come for this Canadian group.
4/5 Skopes
By Jimmy Rae (jrae2@att.net)