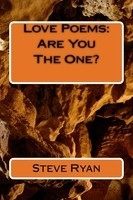 I've had the chance to hear Steve Ryan's musical side but now I get a glimpse into the poetic world of Mr. Steve Ryan.  As an accomplished singer/songwriter, musician, actor & author, Steve has tackled the field of rhyme & reason with his new book titled "Love Poems: Are You The One". Exploring the vast subject of love, Steve is able to keep it simple without sounding too cliche.
Ryan divides the material up nicely into five different categories/chapters: "Dreaming of Love", "Falling in Love", "The Relationship", "Heartbreak" & "Reconnect or Move On".  It comes as no surprise to find out that Steve Ryan starting writing poetry at age eight because it seems to come natural to him. Ryan has definitely got a poetic bone or two within his body, which he gladly displays in his book.
From the good to the bad to the ugly, Steve covers all aspects of love while answering some tough questions people may have about the famous L word.  "Love Poems: Are You The One?" is very personable and easy to read. One can relate to Ryan's words on many levels due to the easy-to-follow style of writing & down-to-earth language. The poems flow like a steady stream while also serving as an informative & insightful tool.
This book is one fun & enjoyable read for all ages! Love comes in many different shapes & sizes and Steve Ryan will lay them all out for you ABC…123! It's worth noting that Steve's new book is in the Best Seller Category on Amazon (http://www.amazon.com/Love-Poems-Are-You-One-ebook/dp/B00HDE7V4E/ref=sr_1_1?s=digital-text&ie=UTF8&qid=1389712772&sr=1-1&keywords=love+poems+are+you+the+one)!
You can also pick up a copy at Barnes & Noble: http://www.barnesandnoble.com/w/love-poems-steve-ryan/1117927994?ean=9780615937946. Full of catchy verses & rhyme schemes, Steve Ryan will satisfy your appetite for fun-loving poetry. Prepare to fall in love with Steve Ryan's "Love Poems: Are You The One?" as you glide through the pages! Playing the role of a rock star of sorts, Mr. Ryan has many talents but a Poet he is and a Poet he shall be!
4.5  Skopes
By Jimmy Rae (jrae2@att.net)