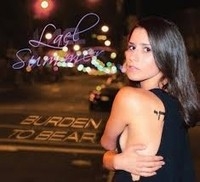 Lael Summer's latest release, Burden to Bear is no burden to listen to by any means. It is more like an obligation and if you do not put forth the effort, you are the one missing out.
She was born and raised in the heart of NYC and pours everything that was learned from that experience into her music; which has created quite an interesting career. She has opened for names like, Jon Anderson of Yes and Gary Sinise's band, of which I did not even know he had a band. Good on ya, girl!
Stream the album at Bandcamp: http://laelsummer.bandcamp.com/
Soundcloud: https://soundcloud.com/laelsummer/sets/burden-to-bear
Her music is reminiscent to Nora Jones, Amy Winehouse and Joss Stone but she certainly holds her own and is in good company. She can be sweet, edgy and down right fiery when she wants to be. Her vocals are pure and concise no since wasting time with unnecessary notes, she utilizes everything with precision.
That pretty voice of hers is a perfect compliment to the instrumentation for each tune. Less is certainly more on this CD. There are beautiful melodic interactions between the music and her voice. There are nice subtle harmonies, I wouldn't even mind a bit more volume on that little nuance; but a gem the way it is, none the less. Do not get me wrong, she has soft vocals but she is a rocker and sells each and every song with undying passion.
There is a nice mix of slow and up tempo. Each song is its own record. Lael Summer's CD, Burden to Bear is a cut above the rest. She is a solid competitor in this industry we call the entertainment business.   She certainly is entertaining and is making a name for herself, don't be the last one to jump on board.
I rate this 5 out 5
Rebecca Hosking – hoskingrebecca@gmail.com