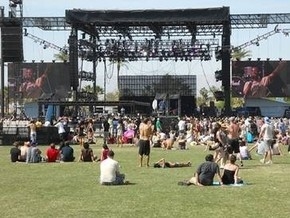 Big or small, outdoor music festivals have a certain magic to them. From traveling to the actual festival, to watching your favorite artists live – today, music festivals are a must-do activity for all ages. With warm weather finally here, http://CheapOair.com has suggested five of the best outdoor festivals worthy of booking a trip to.
Outside Lands
San Francisco, California
August 8-10
Most people may not be as familiar with Outside Lands as the rest of the festivals on this list, but it's an event you'll want to familiarize yourself with. One of the best features is its location in Golden Gate Park, one of the largest urban parks in the world. In between shows, you can enjoy a stroll through the park which includes world-class museums, a small lake, waterfall, and walking and bicycling trails. The festival features a long line-up of bands, both big and small, over a three-day period.
Coachella Valley Music and Arts Festival
Indio, California
April 11 — 13 & April 18 — 20
What Outside Lands is to Northern California, Coachella is to Southern California. Coachella is just a big Southern California party in the desert that goes late in the night. With such a big lineup, odds are that at least a couple of your favorite performers will be playing. The event has gotten so big that they've split the festival up into two weeks for 2012.
Bonaroo
Manchester, Tennessee
June 12 — 15
The majority of visitors to Manchester, Tennessee every year are specifically for Bonaroo. Manchester is a small town that is typically passed by on the way to Nashville. In addition to some of the top musicians in the world, the festival includes performances by comedians and films. If planning to stay the entire weekend, consider packing your tent and sleeping bags.
New Orleans Jazz and Heritage Festival
New Orleans, Louisiana
April 25 — May 4
If jazz just isn't your thing, don't write off the New Orleans Jazz and Heritage Festival so quickly, since it features many musicians that go beyond just traditional jazz music. While there are shows all day, every day around the fairgrounds, one of my favorite parts of the festival is the great food, which features some of the best parts of New Orleans cuisine, like po'boys and crawfish. Afterward, the crowds head to local bars and clubs where local and regional musicians take to the mic.
Lollapalooza
Chicago, Illinois
August 1 — 3
Lollapalooza has a long history, but one that hasn't run every year. This outdoor festival is a little bit different than others on this list because while the highlight is live music, it also serves as a platform for politics and nonprofits. Lollapalooza has now been going strong for several years in a row now, bringing together the top rock and hip-hop performers. Plus, it's in one of America's most famous parks: Grant Park.