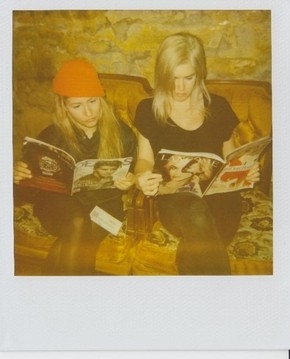 Today the ladies of Beverly are pleased to announce their debut, full-length album, Careers – set for release July 1st via Kanine Records. Frequent collaborators Drew Citron and Frankie Rose spent a lot of last year on the road together. They wrote on the road and recorded when back at home. Careers is the result of their time together.
"Honey Do"
https://soundcloud.com/wearebeverly/honeydo
Introducing Beverly: Beverly is 16 today. I heard she was a bratty baby; she drank all the milk. Bev is sooooo hot right now. She's always really hungry, and I don't know why. Sometimes she eats Cap'n Crunch 'til she thinks she's gonna vom – then she eats more. It's weird. She's still growing I guess. She'll eat anything and everything. I heard Beverly ate her father's strat, then her mother's purple slingerland drum set…so crazy. She keeps getting bigger. She must be like 9 feet tall. I don't think Bev showers either. She's a dirty girl. Her hair is stringy and she doesn't care. Also Bev refuses to stop putting her hand in Tim the pit's cage. Tim's gonna bite that hand clean off one day… Did I mention, she wears waaay too much makeup and mismatched plaid? Frankie and Drew say her style is tacky, but I just think it's so Beverly.