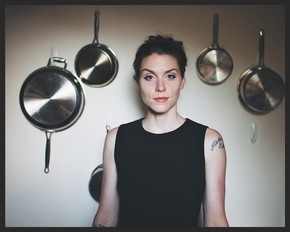 Check out The Bright Smoke's single "God Willing," up now for review and feature! This powerful and emotional track, complete with a heart-pounding beat and an escalating intensity, is the first track off of the band's recently released EP, Virginia Et Al., the follow up release to their first full-length album Late For War.
https://soundcloud.com/thebrightsmoke-1/god-willing
Wilson is a self-taught musician and the previous front-woman of The French Exit. Prior to moving to New York, Wilson played shows around the South, the Midwest, UK, and Namibia. In 2008, after moving to New York, Wilson was introduced to Ledbetter by a mutual friend and guitarist of The French Exit. The first collaboration of the two took place at a live show for The French Exit when Ledbetter stood-in as bassist, and did so for a handful of shows thereafter. When The French Exit folded in 2009, the two collaborated and released the full-length album Late for War in April of 2013. Wilson and Ledbetter quickly returned to the studio for their follow-up EP, Virginia Et Al, their most recent collaboration.