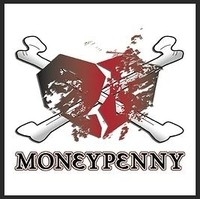 Get ready for the four-man group MoneyPenny as they tear through their brand new, 12-song set!   MoneyPenny plays fast & steady and you can bet all of your money in the bank that this group will not slow down.   MoneyPenny is hoping to share their wealth of music to large audiences everywhere!
The band is made up of: Isaac Moneypenny on guitar & vocals, Steve Holmes on lead guitar & vocals, Ryan Pasty on bass & vocals and Nic Battad on drums & vocals.   With a style that combines elements of: Pop, Rock, Punk & Punk Rock, MoneyPenny is bringing an energizing sound to the table.   The record starts up with a song titled "Famous First Words" where I was hearing a Blink 182 influence with a bit more edginess to it.   As the disc rolls along one can't help but think that these guys are intense when it comes to playing as a band.   Hitting it hard and never letting up on the gas while cruisin' & havin' fun should be their motto!   You'll love their hard-nosed energy that they bring to each song especially on track four, "Fight Or Flight", OR how about just their overall, cool vibe that you'll distinctly hear on track five, "Below The Surface".   And MoneyPenny would personally like to thank a lot of the ladies out there who have been known to break a heart or two.   Without those lovely women, this record would not be possible, so let's hear it for the girls!   With lines like "Not gonna let you ruin my life" on the song "Far Behind" and "Don't try to tell me you're sorry; sorry I don't care" on track 10, "Insecurity Blanket", can't you just smell the love in the air!   Real heartbreakers, and no I'm not talkin' about Tom Petty's great band, are the main inspiration behind the making of this album.   So following up with that, Punk is the perfect vehicle/outlet for MoneyPenny's vision, which is heavily used throughout the recording.   The attitude that goes along with that sound comes across perfectly like on track 11, "Sincerely, Your One-Night Stand".  
EPK: http://www.sonicbids.com/band/wearemoneypenny/
These musicians can rock out like there's no tomorrow, give you Pop appeal and then hit you with a punky punch that will leave you in a daze.   And something a lot of reviewers probably won't mention but I will and that is that I heard some nice background harmonies here.   This further added to the band's appeal and proved to me that they are not a one trick pony.     I can tell that MoneyPenny had a blast making this record and that their tenacious playing came through loud & clear.   I look forward to hearing more from MoneyPenny as I feel this band has a lot to offer.   All I can say to work on is to continue to get more creative and have no musical boundaries.   Keep hammering away and let the brainstorming begin!   Just think no limits and MoneyPenny will be unstoppable!   Whether it's heads or tails, this is one MoneyPenny you'll want to pick up and hang on to.  
http://www.wearemoneypenny.com
http://www.youtube.com/user/wearemoneypenny
4/5 Skopes
By Jimmy Rae (jrae2@att.net)