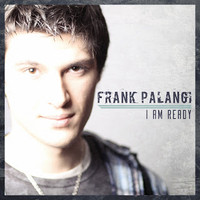 While many feel the music industry is in disarray right now it's always a breath of fresh air to hear a new and exciting artist that's not afraid to take chances with his music. Enter New York based rocker Frank Palangi and his   latest EP musical offering: "I Am Ready" (2013). 2013 brings new light, exposure and industry game with the EP album titled "I AM READY". The 2012 single "I AM READY" proved to be a solid modern rock track that attracts your attention and is not the traditional cookie cutter material with raw ambition. Along with "FROZEN" being entered into the 2014 Grammy's, the ballad single off the record brings a closure of a broken heart story with producer Rob Coates from Nashville, TN, who has worked with many mainstream and Grammy nominated artists, has brought that raw, solid, and modern twist with Frank's honest, determined, and motivating personally to life.
URL: http://frankpalangi.wix.com/official
This simple, brilliant, unique EP arrangement tells me a lot about the artist. It's clear to me he has surpassed what many consider the a-typical rock release in 2013. From the beginning track "I Am Ready" to Track 6: "Last Wish" this EP delivers on all fronts and quite frankly BLEW ME AWAY. Although some would claim there isn't anything here that that hasn't already been done before, it's amazing and fresh nonetheless. This is good alternative rock that delivers 6 mind blowing songs that will keep you mesmerized with quirky-dark messages, music that is slightly adrenalized, and a vibe that is unmistakably Palangi. Just because you rock out doesn't mean you have to act or look like Marylyn Manson? I think Palangi gets that. He also combines many impressive musical styles like vintage Hard-Pop, retro Pop of the 70's and even Alternative-Rock to traditional Singer/Songwriter Rock. Now that's a pretty whacked out yet impressive list.
Some of the pieces on "I Am Ready" I really like are as follows: Frozen, Than You and the title track. The title track and "Turn It All Around" could even expand the possibilities of a radio hit in the making. What's more: the musicianship of his band: Drums: (Pillar) Lester Estelle jr, (I AM READY, FROZEN, THANK YOU, BOOHOO), Frank Savasta, (TURN IT ALL AROUND), Guitars: (Pillar) Noah Henson (FROZEN), Jacob Veal (Eowyn) (I AM READY). Frank Palangi (all tracks), Bass: Rob Coates ( I AM READY, FROZEN), Frank Palangi (THANK YOU, BOOHOO, TURN IT ALL AROUND), Vocals: Frank Palangi
Backup vocals: Joe Carroll (BOOHOO), TR Remsen (LAST WISH DEMO) pulls out all the stops. The production value (recording, Mixing, Mastering) is clearly industry standard. The music of Frank Palangi will also remind you of Toad the Wet Sprocket, O.A.R, Dispatch, Tim Reynolds, and maybe Phish on steroids. On the other end of the sonic spectrum I can also hear: Grizzly Bear, Porcupine Tree, Philip Selway, Daughtry, and Godsmack. Like I had mentioned the production value is also top notch and the vocal front of Palangi really gets its point across and goes beyond traditional pigeonholing by music critics like myself. Palangi delivers a solid, consistent vocal ability as he glides with precision through all pieces (guitar/vocals) with amazing harmonies and a captivating vocal timber. I don't feel he is at the vocal level of say Chris Cornell, Eddie Vedder or Daughtry — but he has many other strengths and plays to them all.
In close much of Palangi goes beyond just good playing and world class songwriting. Lyrics are also an important factor for me when listening to a band or artist. In this aspect I found his writing style most intriguing as they paint you an impressive visual between the spoken word and messages of hope, love, mystery and the love of life itself.
Rating 4/5 Stars
Purchase Link: http://www.cdbaby.com/cd/frankpalangi5
Reviewed by: David Wells edited by Heather Savage Review comments: heathersavage5@gmail.com