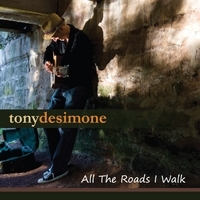 Singer/Songwriter Tony DeSimone is back with his third release titled 'All The Roads I Walk'.   I had the pleasure of reviewing Tony's debut album, 'The Second Time Around', back in 2011 where I knew then that this musician was well on his way (http://www.skopemag.com/2011/05/20/tony-desimone-the-second-time-around).   On the new EP, DeSimone will not disappoint as he adds his personal touch to each and every song on 'All The Roads I Walk'.  
The opening number, "Blame It On Me", screams radio hit single as Tony taps heavily into that catchy Pop/Rock market.   The song will draw you in with its positive vibes, Pop appeal & pleasant melodies.   Tony D displays a whole lot of feeling on "Blame It On Me" where the audience will have one fun & enjoyable listening experience.   And right from the start one can't deny the fact that Tony DeSimone exhibits a genuine purity to his voice.   The quality of singing by Mr. DeSimone is quite impressive because as soon as you push Play you will take notice of his vocal delivery.   Next up is "Down No More" where Tony offers up a great message by saying not to beat yourself up no matter what curve balls are thrown at you in this thing called life.   The next song called "More Than Lost" is the stand-out track for me personally just due to the fact that lyrically Tony D is on top of his game here.   DeSimone is serving up some very touching & emotional words where Tony expressed his innermost feelings by stating that he is "More Than Lost in the world without you".   Obviously a special person in Tony's life where he goes on to add that "All the roads I walk seem to lead me back to you".   "More Than Lost" includes some other memorable lines like: "All the dreamers get lost in the stars & Just a moment here and then gone".   There is even an acoustic version of this track that has Tony shining bright in the spotlight.   "More Than Lost (Acoustic)" is unplugged and stripped down to just one man, one guitar & one voice.   Two other solid songs on the album that contain much substance & insight are: "Worked Up" & "Afterthought (I Don't Want To Be)".  
"More Than Lost"
http://youtu.be/DeaGUo06mAk
Overall, I am extremely pleased with Tony's efforts on 'All The Roads I Walk' to the point where I really feel Tony has found himself when it comes to being a top-quality singer/songwriter.   When you can move someone with your words, your music & your sound, well then you have made it in my book.   DeSimone is responsible for all of the music & lyrics on the record as well as being co-producer.   He had help once again from Grammy Award-winning producer Anthony Newett and together they have come up with one clean, crisp & polished recording.   All of the hard work that went in to making this record comes through loud & clear.   When you slip the disc in and hit Play, that professional precision & radio-worthy sound will hit you like a typhoon.   With a recording session complete, Anthony Newett & Tony DeSimone have achieved studio magic with 'All The Roads I Walk'!  
"Blame It on Me" MP3:
http://k007.kiwi6.com/hotlink/awlahzjze1/tony_blame-it-on-me.mp3
You can catch Tony performing live at two upcoming shows: Cape May Singer Songwriter Conference Showcase this month & also at The Pines Tavern in Bristol, PA on Saturday, April 26.   You'll also want to check out his websites for more info and you'll definitely want to pick up a copy of 'All The Roads I Walk'.   We have all travelled down different paths in our lives but this one just feels right.   From a listening standpoint and for Tony's sake as an artist & musician, 'All The Roads I Walk' is definitely headed in the right direction.
http://www.tonydmusic.com
https://www.facebook.com/tonydesimonemusic
http://www.cdbaby.com/cd/TonyDeSimone2
https://itunes.apple.com/us/album/all-the-roads-i-walk-ep/id791955973
5/5 Skopes
By Jimmy Rae+ (jrae2@att.net)