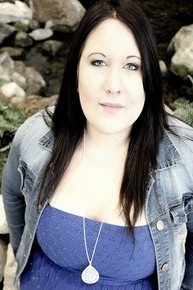 Hello there good people of the world, hope your week is off on a good note. Last week Justin Timberlake was in Boston for a show at the TD Garden. I was walking by the morning after and I was just started thinking about how many trucks and tour buses it takes. JT is obviously very talented and popular but that is a huge carbon footprint. Speaking of live shows, Livenation reported, "We had a record year in 2013 and are well positioned for continued growth in 2014. During 2013, we further grew our unmatched concerts global fan base by 10 million fans, attracting almost 60 million fans to our concerts. This tremendous growth fueled our sponsorship and ticketing businesses with Ticketmaster managing nearly 400 million total tickets in 2013. Combined, we delivered a record year for revenue, AOI and free cash flow." This just shows that fans love live shows and we should all be happy that this trend is not going away. Now lets get to an artist by the name of Amy Rose. Amy is from Canada but she is nothing like Drake or Bieber. I got hip to Amy after seeing her video for Sunshine and I was hooked, this woman can sing. I was so excited I figured lets have her on and so here is Amy Rose speaking on everything from her new single/video for "Sunshine", being involved with Bright Star International, being a mom & wife, and so much more!
Stoli: Where are we talking from today and are you sick of winter already?
Amy: Iam currently in Barrie Ontario, Canada right now which is where I call home and yes, I'm done with this white stuff and is so ready for sunshine, flowers and flip flops… Hahaha
Stoli: Is Amy Rose your real name and how did you know at the age of 5 that you wanted to be in music?
Amy: Yes, "Amy" is my first name and "Rose" is my middle name… You know I can't ever remember there being a time when I didn't want to sing… I was 5 years old when I entered my first singing competition which I sang "Stand By Your Man" by Tammy Wynette and in that 3 minute moment I was hooked and knew music what what I wanted to do for the rest of my life…
Stoli: Have your family/friends been supportive of your musical ambitions and was music a part of life growing up?
Amy: Oh yes, I definitely have the most incredible support system…I have a Mom and Dad that have always had bigger dreams for me then I had for myself… I have an amazing Husband and 3 beautiful little girls that love me unconditionally and want nothing more then to see this dream of mine come true… I honestly have the greatest family, friends and fans in the whole wide world!!!
Stoli: I am loving your new single/video for "Sunshine." When did you write that song and how did you match the video with the content of the song?
Amy: Sunshine is one song I wish I wrote as the lyrical message is so powerful but I can't take credit for it as unfortunately I didn't write this one… The song is about loss and the pain we deal with of losing a loved one and that's what the director wanted to bring to life in this video…
"Sunshine":
http://www.youtube.com/watch?v=jmRM5irWRBQ
Stoli: What kind of mood and setting must you be in to write & create music?
Amy: You know songs come to me at the weirdest places and times, I just hope I have a pen and paper to capture it when it does… Hahaha
Stoli: You have accomplished so much through music so far. What is a goal that you are working towards and how does it feel to be received so well by fans and the industry?
Amy: My biggest goal is to sing on The Grand Ole Opry stage where generations upon generations of music has been shared… (I would also like my biggest idol Mrs. Dolly Parton to introduce me when I do) I'm not asking alot, am I??? Hehehehe ;) I know I've said it before and I'll say it again, I have the greatest family, friends and fans in the whole wide world and it's because of their continued support the reason why I'm doing what I love to do in an industry I so deeply love… Thank you!!!
Stoli: What two musicians before you have been inspirations and any that you would love to work with in the future?
Amy: I'm a huge fan of Dolly Parton and would LOVE to someday work with her… Hmmmmm AND Vince Gill!!! (He's so dreamy) Hehehe
Stoli: Your voice is amazing. How do you keep your vocals sharp and ready to sing live and in studio?
Amy: Water, water and more water!!! (Gotta keep those babies hydrated) ;)
Stoli: You are involved with Bright Star International. Please speak on that charity and how you got involved?
Amy: Yes, I've teamed up with Bright Star International an amazing organization to help make awareness the dangers behind drinking and driving… Help spread the message by heading on over to www.brightstarinternational.org and take the "sober driver" pledge TODAY and vow to don't drive & drive which could save a life that could ultimately be yours… (All the cool kids are doing it!!!)
Stoli: It looks like fellow Canadian Justin Bieber is in some trouble. What is it about fame and fortune that can turn an innocent & talented artist to a life of sex, drugs, and crime?
Amy: You know, I honestly don't know why people do what they do especially when their on top of the world and have that power to do great things and be great role models… They say we all lose ourselves somewhere along way but only you "YOURSELF" can be the one to find the real you…
Stoli: You put out your first album at 13 and have not stopped. What is it about you that you were so disciplined and focused so young and how can parents share that with their kids?
Amy: Drive, its all about the drive baby!!! Be true to who you are, stay focused and aim high cause skys the limit… :) Most importantly "NEVER GIVE UP" …
Stoli: What is coming up for Amy Rose and where you @ online?
Amy: A ton of awesome things coming up including a new single "Country Crazy" which is set to be released in April along with the music video… (I'm super excited about this single, its gonna be killer) To find more about what's going on and where I'm at, you can do so by visiting www.amyrosemusic.com