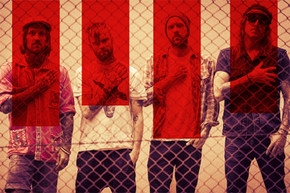 The Used has released a new single and music video for "Cry" off their upcoming album, "Imaginary Enemy," set to release on April 1st, 2014. Watch the music video here: http://bit.ly/1n7ZL1l.
Album pre-orders are now available on iTunes here: http://bit.ly/1lhbv3c.
"Imaginary Enemy," produced by the acclaimed John Feldmann,is the band's sixth studio full-length, following the success of 2012's "Vulnerable," which debuted at #8 on the Billboard Top 200 charts, selling 32,000 copies in its first week alone and marking the group's fourth top 10 album. Through his dark, cinematic storytelling, "Cry" music video director, Gus Black (Deftones, Atlas Genius) sends the viewer on a journey that guarantees to you fully captivate you until the video's very last frame.