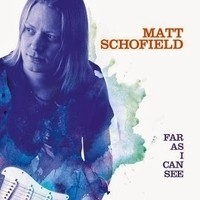 The English blues guitarist/songwriter has gained popularity as an artist throughout the world, and with his fifth studio release keeps the trend going.   As most of the legendary English guitarists grew up on the blues, you don't run across many newer younger entries into the blues category.   Matt has his own version of blues chops, and the voice to go with them.   Matt is backed on this release by Jordan John on drums, Jonny Henderson on keys, and Carl Stanbridge on bass.   Also, Danny Ilet lends some guitar and James Morton contributes some sax work.
The Day You Left is a slow ballad, simply presented and not resembling the standard format.   Getaway is a moderately paced following traditional structure.   The Day You Left is a ballad talking about, well, the obvious.   Oakville Shuffle is a quick paced instrumental blues shuffle with some B3 added for flavor.   Red Dragon has a Jimi type-opening groove, and flows into a guitar-based ballad.   Tell Me Some Lies is the piano driven "Honky Tonk" dance song here.   Hindsight is a jumpy tune with organ base and some good sax placements.   Breaking Up Somebody's Home is a tribute to Albert King, and does bear a resemblance to the old blues man's legacy.   Clean Break has a definite B.B. feel to it, driven by the organ and guitar.
This release relies mainly on the guitar, bass, drums, and just a little non-invasive intervention of the old blues reliable Hammond B3 and assorted keys and some sax touches.   It's a good mixture of blues styles without leaning on one particular legend's sound and texture.   If you're a blues guy, give it a listen.   All of the songs have a different feel and delivery!
By R.M. Engelman
Rating: 3/5