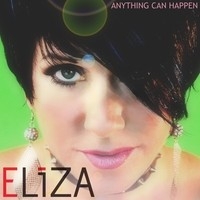 Eliza[pronounced Eleeza] is an original artist and composer from Southern California. Her debut release "Anything Can Happen" is coming out early 2014 and shows us that she really knows what's up.
Her dark electropop sound is a perfect soundtrack for club life and celebration, fitting in somewhere between Lady Gaga and deadmau5.
"Anything Can Happen" is the title track and serves as an introduction to Eliza's pop hooks and production skills. She easily fits in with anything out on Beatport these days, showcasing her abilities to not only craft original and catchy hooks, but to get booties wiggling on the floor, where it really counts.
Her first single is "Look Away" and from the first synth line it takes the listener to 80's synthpop, from vintage keyboard sounds to drifting guitars with endless delays. Even the beat has a vintage tone. The dark atmosphere reminds me of Depeche Mode and early Anne Lennox.
"Boys Like You" is a bass driven track with a chorus chanting "Moma told me not to go with boys like you" as a reminder or perhaps a warning about hooking up with bad boys.
"Murder [I'm dying for your love]" is a bit of a hard one to pinpoint. It follows the blueprint of "Boys Like You" with a cello bassline and heavy string synths.
"Invisible" starts out with radio squelch and a great intro, beforing exploding with a huge bass and kick. Probably my favorite track so far. The dark vibe and sampling fits well with her voice and songwriting.
"The Beat" is another club burner, suitable for just about any dj set. One thing that sets Eliza apart from other artists is her attention to detail, utilizing a number of production techniques and layered harmony vocals and the occasional surprises that take a ho hum melody and give it some bite.
Next up for my ears is "Satellite", with it's European dance pop vibe. Think Kylie Minogue with the pumpin' jump up and get down beat and staccato synths and huge choruses.
The album closes with "Beautiful", closing on a lighter vibe than how it began. Usually an album of this type brings out the fun party tracks at the beginning, Eliza carefully chooses to evolve the album in the opposite direction, starting off dark and menacing then slowly building to something "Beautiful".
This is a carefully constructed and thoughtful dance pop album that covers alot of ground in the electrohouse and dance genres, with the right muscle behind it there is no reason this shouldn't be a hit in 2014.
www.eliza-muzic.com
www.reverbnation.com/eliza4
Douglas Garnett – douglas.garnett@gmail.com – http://digdugdisaster.com