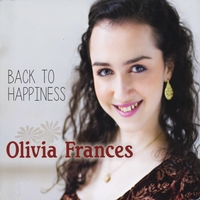 Fusing her "addiction to the catchy melodies of pop" with her love for the storytelling aspect of country music, 17-year-old Olivia Frances puts forth her own distinctive blend.
Though she likes the work of such hotties as Taylor Swift and the cougar-ish TLC, her most profound musical epiphany occurred when she heard "Shining Star" by Earth, Wind, and Fire. Since then, Frances has been ardently composing on the guitar, piano, even the ukulele.
Having also assisted with the production of two operas, the "bubbly and enthusiastic" Cincinnati native has performed all over her hometown at coffee houses and benefit concerts.
And now we have her album Back to Happiness.
The title track has a kinda folksy beginning. Thirty seconds in, I'm already a fan of Frances' voice. Hers is a crisp, accessible, pleasing voice. Additional kudos to the background guitars, which adeptly complement the track without overtaking it.
"Head to Toe" is a pleasant, flirty piece.  
Olivia Frances – Back to Happiness
http://www.youtube.com/watch?v=pu766V4xJuk
"Heart to Hold" is intimate and dreamy: "I like sitting / in the middle of this open field with you…as we point to the clouds / and match them to shapes and nouns." At a few points, Frances's voice climbs an octave or two.
The track "Rushin' to Nowhere" has a striking instrumental intro. Sounds like it could be from the thick of Appalachia. Also striking is the way Frances occasionally stops on a dime during this track.
A dual-vocal mix soothes the soul during "Slow Dance Song."
"Hopes Up" has some pop-rock bite. Very radio friendly. Same could be said for Ms. Frances is general. She has a youthful energy too fresh to ever grow old.
Care to head 'back to happiness'? Simply click:
https://itunes.apple.com/ie/album/back-to-happiness/id646587160
Another adequate option is: http://www.reverbnation.com/oliviafrances
Friendship is available: www.facebook.com/oliviafrancesmusic
Additional info can be gleaned at: http://www.oliviafrancesmusic.com/
Ray Cavanaugh – owleyesgatsby@yahoo.com