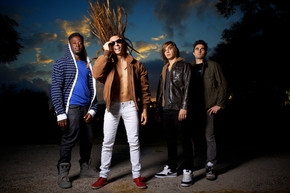 The Crazy Carls explore pop rock with original personality and great songwriting. Alex Baugh, the band's singer, songwriter and lead guitarist, is both a tremendous performer and versatile artist. His songs flow with superb energy and raw feeling. The band's latest CD, "Owl Tattoo" features pop songs with a dynamic range from intense guitar solos, falsetto vocals and soul searching lyrics. The music engages and entertains the listener with powerful songs from real life experiences.
The Crazy Carls have roots in many music genres from reggae to funk. Their music defies labeling because their sound is always fresh with rich vocals and sensitive lyrics. The new CD features superb dance music with energy tracks like "Celebrity" and "Red Lipstick". Other songs like "Leave Me Tonight" and "Fire In the Hole" tell intimate stories of personal experience.
The Crazy Carls, "Leave Me Tonight" (Video):
https://www.youtube.com/watch?v=qf5YPYlE15k
The Crazy Carls' independent spirit is a great attraction for fans, and their broad appeal continues to grow. The band members are notorious for their intense performance and loyal fans. The Crazy Carls have headlined venues throughout Florida and the Southeast. Their shows are unmatched because of their high energy and spectacular showmanship. The Crazy Carls invite you to follow them for an experience that will surpass all expectations.