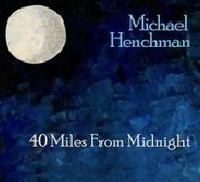 (PORTLAND) Michael Henchman performs, writes and records in a unique hybrid style that fuses the rhythms of classic folk, singer/songwriter and vintage pop melodies and a lyrical sense of humor. In his own words Michael says, "I unearthed these stories as songwriters often do, witnessing clues along the byways of our own lives… a woman walking her heart for miles upon miles to find an answer; a man wondering on the irony of a hearse pulling a U-Haul; another tearing a dusty streak across desert towards midnight. These tales are endlessly unfolding; our place as songwriters is to bring light to them, render them, translate their emotion." Well said. I have to say I was extremely impressed with the opening 3 tracks "Circle Back", "Heartland" and "the title track. All 3 songs made quite the first impression on me as each one possessed my full unadulterated attention. To be honest: I expected cheesy throw back Pop Rock that was extremely predictable and shallow in nature — very compatible for a mass audience. Well shame on me because what I discovered was actually quite the opposite. The whole CD is wonderfully conservative yet full of what I would call powerful melodic energy with music that appeals to so many different senses on so many different levels. It reminds me of Gary Pierce, Patty Larkin, David Wilcox, and Chris O'Brien. I can also hear the slight Rock influence in there as well. like from Gordon Lightfoot. What I really like about Henchman is his musical intellect via amazing lyrics that are simple yet really hit home with the common everyday person. There's also no attempt to sugar coat the truth or deliver what I call over the top pop rock. Cheezy pop music via top flight sampling, cookie cutter songwriting via a mix that sounds more like a commercial than a piece of music. It's nice to hear good music away from the above format. It's in this light we can see and realize how much we've lost our way. Weather it's musically, lyrically, inspirationally, emotionally, spiritually — 40 Miles from Midnight" keeps it real on multiple levels.
Official URL: http://michaelhenchman.com/    
Favorite Track: Title Track
Criticism: None
Conclusion: 40 Miles From Midnight by Michael Henchman will affirm your faith in good Folk-Pop again. Henchman is a unique, hard working artist that knows his way around a studio, a catchy song and a concert stage.   He represents all that is good in music and his latest CD ": 40 Miles From Midnight " delivers a highly passionate, instinctually stimulating catalog of music via rock solid musicianship, entertaining songs and music that covers all the bases: folk, pop, and singer/songwriter.
Final Rating:   3/5 Stars
Written by Adam Draper edited by Markus Druery
Review comments to: marktheshark972@gmail.com