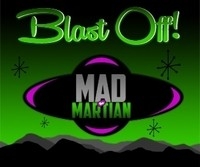 Can Aliens Save Rock-n-Roll?
Meet Mad The Martian whose tagline is "They come from outerspace to save Rock-n-Roll". While this is all in cheeky good fun, there's something to be said about this bands' intentions. Rock has always been about invention and rebellion, and MTM does both in spades. "Blast Off" is their debut and from the first note, I knew I was in for a good time and possibly something that's been missing from rock music for a long time, craftiness and originality.
From the first note it feels like I'm hearing something from a different time, while embracing several decades of imaginative music at once, from the Beatles to the Beach Boys and beyond.
Part of the magic of this album is that it was recorded in an analogue studio and has a real warmth that's hard to describe without hearing for yourself. There is also a familiarity that makes it easy to embrace, but stuffed with enough creativity to make it all their own. Influences worn proudly on their dirty sleeves be damned, these guys are doing their own thing and they are doing it well.
Blast Off kicks off with C'mon C'mon C'mon, a stompin' classic rock vibe like a cross between Elton John and Thin Lizzy.
"Livin' Out Loud" begins with a psuedo ballad intro and crosses into a cool Bad Company type of chorus. One thing I'm impressed by is how clean this album is for analogue, there's a crisp mix and there are real harmonies floating around everywhere, no Autotune to be found anywhere on this release. And these guys can really sing. Bonus points for that.
"Lift Me" is next and has a sort of 38 Special arrangement, think 'Hold On Loosely'.
But – then comes "Blast Off" and we're back on track. This song sizzles and to me is the most original song, with a spacey nod towards Gary Numan and Devo. It's fun, fast and really catchy.
"Boomerang" jumps into the more modern sound a bit with their indie dance vibe ala Cut Copy or Bloc Party and shows they can hang with just about anyone.
"Stuff" reminds me alot of one of the greatest unheard rock duos Lollipop Factory, with interesting chords and fantastic harmonies. This is a must hear in my book. It's about materialism, something us Americans can certainly relate to.
Next is "Time Machine" which has a mellow dream pop vibe mixed with Weezer hooks. In an alternative universe, this is probably on radio right now and doing well.
"Floating" flirts with altcountry and Eagles territory. "Return To Light" carries on with the mellower side of Mad the Martian, a bit Beatleseque, it shows some great harmonies and keyboards.
"Extraordinary Love" begins like a continuation of the previous tracks before delving into some fresh territory. I almost hate to use Boston as an reference, but it does carry that vibe.
"Strange Attraction" starts with an amazing harmony melody, think Yes in their heyday. The song itself isn't as memorable as some of their others, but it's still pretty decent 80's style pop rock.
"Dagger" gets back into rockin', ala AC/DC style and Billy Squier. Man, this album has so many influences you would think they were a supergroup at times. Closing the album is "If Time Stood Still" and is a pretty good way to end an entertaining and interesting mix of new and old, a modern day classic rock album if there ever was one. The playing is great, the songwriting and vocals are top notch and original. Any fan of real old school rock-n-roll and the classics will love this.
Douglas Garnett – douglas.garnett@gmail.com – http://digdugdisaster.com