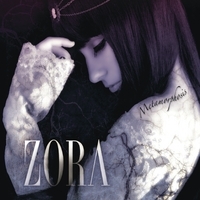 Welcome Zora with their debut, full-length album titled 'Metamorphosis' just released as of Friday the 13th of all days!   Whether luck is on their side or not, Zora proves to be insanely original & creative on the new release.   The record is described as a: "concept album based on Kafka's novella; the album explores similar themes of alienation, destruction, universal randomness, and the eternal cycle of death and rebirth".   The story of Franz Kafka's "Metamorphosis" is an intriguing tale that centers around the main character Gregor Samsa transforming into an insect-like creature one day and having to deal with life in that state.   Life has its ups and downs but it's how one deals with his or her situation is what defines us as humans.   So…let the 'Metamorphosis' begin!
Zora is a Cleveland-based duo comprised of the leading lady Zora on vocals, keyboards, production & songwriting and Xhausen on synthesizer & production.   When playing live sets Zora also has the help of fellow Cleveland native & bassist JP Pasternak aka Sputnik whose opened up for such acts as: The Killers and The Pixies.   Together, Zora is bringing you a sound that is so wildly inventive and outside-the-box to the point where you can't even begin to classify their music.   On 'Metamorphosis' you will hear elements of: electronica, dance beats, industrial & gothic sounds, classical/orchestral moments & plenty of ambient soundscapes thrown in.   Zora and 'Metamorphosis' are alternative & indie as can be and that is what makes this group and its concept album so darn intriguing!
Album Teaser:
http://www.youtube.com/watch?v=V60aH6rEpbU
The record features 15 tracks, which is already out of the norm for today's standards, so I'm glad to see Zora going against the commercial grain.   Influences include: Tori Amos, Nine Inch Nails and Bjork but I also sense a little bit of Amy Lee in Zora's voice & lyrics but more of a lighter, softer version.   The listener will pick up on haunting melodies & lyrics in what I'd like to refer to as real world meets dream land.   A clash of dimensions that incorporates both fantasy and reality can best describe 'Metamorphosis'.   Zora's vocals are so deep yet sensuous with a dark undertone and they automatically draw you in.   Find yourself swimming alongside a mysterious mermaid that calls herself Zora on "Ocean of Gold".   Zora invites you to take a journey through sound, body & spirit by allowing your mind to run wild and be open to pure imagination & wonder.
I have to say that Zora's musical style/taste is very artsy in nature and I can sense that Zora's music is quite theatrical as well.   I believe that a live Zora set is the way to go when listening to 'Metamorphosis' because it's a story that needs to be told not just audibly but also visually.   I feel that the concept is complex and hard to grasp onto fully solely through an album.   The full on Zora production of 'Metamorphosis' would be powerful & thought-provoking and one performance that I would personally love to witness.   The 'Metamorphosis' is now complete!
4/5 Skopes
By Jimmy Rae (jrae2@att.net)