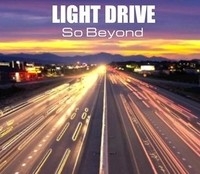 Light Drive is a collaboration between Dennis LaFollette a.k.a. "Phoenix" and Swedish-born singer-songwriter Linda Kristina. Having years ago ventured from Scandinavia to Hollywood, Ms. Kristina worked alongside Michael Jackson's musical director. This is the sort of gig that puts you in contact with a glamorous crew. Pretty soon, Kristina "got to work directly" with the immortal superfreak Rick James (may the man rest in peace).
But Kristina had her own music to contribute. Aside from performing at Hollywood's legendary Palladium, she's also played at the annual celebrity Christmas party hosted by Goldie Hawn (cougar alert!) and Kurt Russell.
Now, Kristina and sidekick "Phoenix" have put forth a single called "So Beyond." It's a kinetic and sensual electronic-pop-dance track. The beat is catchy.   The vocals are alluring. Kristina has some considerable range, which is frequently showcased.
As for the lyrical component, it seems the speaker is beckoning someone to "step out onto the rooftop." Who knows what could occur on this 'rooftop.' A romantic tryst? A homicide? Maybe both?
Though the speaker's objective(s) remain rather cryptic, she does promise "a different perception." Count me in, young lady. Let's go to that rooftop.
And, you, my fellow listeners, are invited to come party with us at: http://www.lightdrivemusic.com/
It's a world full of choices, and there are multiple ways to go 'so beyond.'
iTunes: https://itunes.apple.com/us/album/so-beyond-single/id681990279
cd baby: http://www.cdbaby.com/cd/lightdrive
And there's also a video (viewed over 20,000 times) with some fine views of the L.A. skyline: http://youtu.be/_pg-91zbv2A
Ray Cavanaugh – sentbygatsby@gmail.com