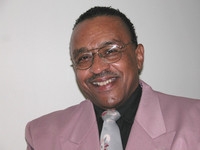 The talent has come at a perfect time in music. 'Pretty Momma' is such a flawless composition. The chorus introduces a sweeping orchestration that effectively builds throughout the song as the emotional anguish in the lyrics deepens. Such a touchy song which is remixed nicely. This is the razing of a soul set to incredibly beautiful music.
John Daryl Blouin & Electric Black Feat. Julius Carey "Pretty Momma The Movie"
https://www.youtube.com/watch?v=wqggycUJqNo
With the soaring voice, untouched by modern trends toward Auto-Tuning and Metallic & Club-inspired choruses, this music delivered with a gut-wrenching, cautionary tale about the danger of prematurely giving away your heart. While I watched this video, it made me feel the touches with the lyrics and the total combination. Really a unique way to present this song.
Fund this musical Album/CD titled "PRETTY MOMMA" (The Movie)?
http://www.kickstarter.com/projects/pretty-momma/pretty-momma-the-movie-w-video-still