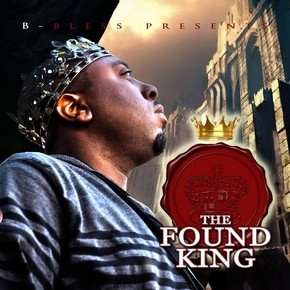 I couldn't think of a crazy title for this one, maybe because I didn't have to. Anyone who describes themselves as royalty just might be a bit crazy themselves… HOWEVER, HipHop and R&B artist B-Bless is actually a true blooded descendant of an actual king. But let's be clear, this is about music… we're not TMZ or even Perez Hilton, we're Skope Mag and music is what this is really about. "The Found King" is a new e.p. by B-Bless and we're going discuss it…
Skope: I need to get this one out of the way first, who are you descended from and are you an actual prince? Tell us a little about where you're from?
B-Bless: Yes I am indeed a prince!!! My father is and currently a King of one of the top villages in Ghana, West Africa. He still resides there. Ironically I was born and raised in Queens, NY, so you can imagine the amount of Coming to America jokes I heard growing up.
Skope: Can you tell us what "The Found King" e.p. is about? Is there a theme or is this a collection of singles?
B-Bless: 3 out of the 4 songs are collection of singles. The actual lead track "The Found King" states my journey to where I am today,transitioning from a boy to a man, a coming of age story, even though most would think I lived a life of privelege, which wasn't the case, I still had to find my own path. The theme of the song is "The Lost prince becomes The Found King"
Skope: Please describe your sound to our readers?
B-Bless: my sound is eccentric but still rap. I try to do the the same things differently. I always try to remain true to the hip hop essence, but I am mindful that I shouldn't be put into a box neither. My sound can range to rap/electronic, rap with pop, or just Hip Hop. I view myself as an overall musical person who happens to rap.
Skope: The singe "What We Call Life" is getting some buzz on YouTube http://youtu.be/CBBy-57_v1E . I'm assuming it's about celebrating good times with your friends, am I close?
B-Bless: right on the money! the video is actually me and my friends at a real life house party. I spent like 700 bucks on liquor that night. so you can imagine what didn't show up on in the video! but It's more so about having a good time after a long week of work.
Skope: How did growing up in Queens, NY have an effect on you as a songwriter?
B-Bless: Imagine coming from a place where, LL Cool J, Run Dmc, 50 Cent, Ja Rule, Kid N Play and Salt'n'Pepa   and countless others used to live in the same neighborhood or within a 1-2 mile radius? Not to mention someone like Nas living in the same borough.
So the bottom line is being wack won't be tolerated lol. There is a responsibilty to bring in Quality music and LYRICS! I don't compare myself to them but I always check if something sounds corny or not.
Skope: Who is The Paperchase Clique?
B-Bless: Paperchase Clique was a duo I was in before I went solo. We released two Albums "The Proposal" and "The Deal" both are available on itunes and digital retailers now. Two projects that I'm very proud of.
Skope: Do you perform live as a solo artist or with the PC?
B-Bless: both. right now the EP is the most current so that's the priority, but "The Clique" is always close by.
Skope: Where do you get your inspiration from to write and who are some of your major influences?
B-Bless: I was already witty growing up. and I was a huge hip fan since 3 years old. So everytime I would hear a bit I would love I would come up with lyrics of my own. or I would come up with creative punchlines or quotes. I had a long list of punchlines and nowhere to use them. It wasn't until K.Blake said we should start rapping and brought me to my first studio where I got the courage to start rapping.
Skope: Are there plans for a full length album?
B-Bless: I have the album lined up. It will be called 'The Lost Prince' more so like a prequel to The Found King. I will then have a special edition   With both titles combined. I am trying to get more of a buzz with the The Found King and to get my feet wet. It's my first time going solo so I want everything to be juts right
Skope: Where can fans and music afficianados alike find your music?
B-Bless: You can find me or Paperchase Clique on Itunes and Amazon. or the website www.bblesspce.com. You can google me and the group, we have two mixtapes which are free, two albums and my ep. you can also follow me on twitter @bblesspce
for all updates.
There you have it. Make sure you check out http://www.bblesspce.com and get your copy of "The Found King".
Douglas Garnett – douglas.garnett@gmail.com – http://digdugdisaster.com