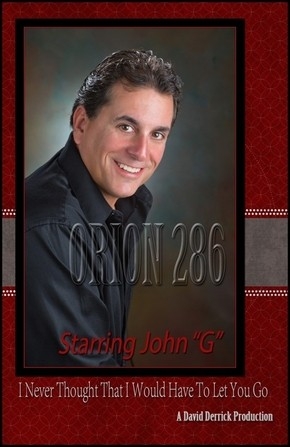 John Babjeck otherwise known as John Garafalo aka "Orion286" starring John G chose to use Garafalo, his mother's maiden name because she was his first musical influence. Also he wanted it for marketing purposes because of his Italian appearance. His mother played the accordion and especially during the Christmas holidays John and his sister would sing along with her.
John G started singing at an early age and continued though out his school years participating in chorus and select vocal groups and after college a local soft rock band. He began taking voice lessons shortly after just for the experience but had no idea it would open up a whole new world.   He grew up singing pop song but once he began studying opera he immediately embraced it despite it being difficult to sing at the early stages. He was exposed to various vocal techniques.This training has in return done so much for his vocal range….
John G "Never Thought" MP3
http://k007.kiwi6.com/hotlink/hekxdc4u33/01_Never_Thought_New_Slammin_mix_.mp3
When he began studying voice, Luciano Pavarotti and Andre Bocelli became John's classical influences even though he enjoys singing various kinds of music.   This passion for music led him to travel to Las Vegas with the goal of opening up for a headliner. As a result the highlight of his career was opening for legendary comedian Norm Crosby in Las Vegas. He saw it as an honor being that Crosby allowed him to shine and the ultimate decision was Crosby's not his managers. This was just one example of John G's ability to strive.
The album reflects the hip sound of today's dance music and pop culture. It has a driving beat that sticks with you even when you stop listening to it. He's very excited about it and the fact that it started out at number 50 with Starfleet Music and are presently at number 5. He was competing with such artists as J-lo and Justin Timberlake. In addition John G "Orion286" has a hot single "I Never Thought I Would Have to Let You Go" which has been charting on internet radio airwaves and podcasts with interviews online as well.
He has enjoyed the recording process experience and has allowed him to listen first hand to obtain the specific sound he wanted. There has been a physical cognitive switch from opera to pop for he had to rediscover his "pop" voice. Now he can switch smoothly between the 2 genres and infuse them. He humbly confesses that he wasn't really involved in the writing process but lyrical credit goes to his producer Derek David even though he did suggest that need for some sort of tag line. When he was initially approached with the lyrics I embraced the concept because everyone has gone through some degree of hardship and loss in a relationship and this song would be relatable to the masses.
Currently they are in the process of coordinating a show for live performance bookings as well as recording the next hot song!   John has been fortunate to have linked with Barbara Sobel Promotions who has access to over 600 radio stations worldwide!
You can find John G "Orion 286 music on www.reverbnation.com and search under "Orion286 starring John G" or download it at Amazon.com as well as website at www.JohnGarafalomusic.com.
LA Virgil – lavirgil2010@gmail.com – www.hismultimediaintl.com