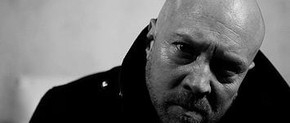 There was a time when rock was about big vocals and even bigger guitars. The 80's left us with some of the best rock guitar players, leaving an imprint that has been influential on every kid in a bedroom with a stomp box and a dream to shred. Doug Stouffer knows all about that and has given us a virtual who's who from that era on his debut album Eye of the Nine.
Skope: Tell us a little bit about Eye of the Nine and what it's about?
Eye of the Nine: The project actually started off as weekly session for us recording Jam Tracks for Dangerous Guitar.com. Myself and Mike Gage were in his studio knocking out a few tracks and literally tossing out 10 tracks in an hour and during one of those tracks we both just looked at each other and said "WE HAVE TO KEEP THIS FOR A SONG". That was the birth of the project.
Skope: You have a site called DangerousGuitar.com featuring tons of guitar instructional videos, lessons and more. Did you start off as a guitar instructor?
Eye of the Nine:I started off playing in bands at the age of 14 and touring when I was 17. I was always taking on students in between and would supplement my income transcribing Yngwie Malmsteen solos for guys and charging a rate to learn a lick or a solo for other players. You might say that was the beginnings of DG.
Skope: Who are some of your biggest influences as guitar player?
Eye of the Nine: I grew up with a vast array of influences and styles. I started of playing classical pretty heavy and also being pretty obsessed with studio players and my main influence was Tommy Tedesco. I was into Jazz cats like Joe Pass, George Benson, Tal Farlow, but rock and metal guys were always consistent in influencing me as well like George Lynch ( who plays on a few tracks on the album), Randy Rhoads, and Tony MacAlpine.
.
Skope: Do you have any advice for aspiring guitarists that you'd care to share?
Eye of the Nine: Always learn something new, open up and explore other styles and surround yourself with players better than you. When you practice don't just sit around noodling on what you already know, push yourself.
 
Skope: Eye of the Nine, the single and video.. what's it about? I see a shadowy figure following you around. Is there a story behind the song?
Eye of the Nine: The album and this song really are built around things all being within you . The shadowy figure, and the building , they all represent journeys inside your   mind. Judging yourself, time being a judge, fears, strengths, beliefs. Life is really all about perceptions. What I perceive is totally different than what you perceive it to be. You see fear, I may see strength. You see happiness, I may see hate.
Skope: Besides shred guitar, you're also an accomplished singer. Do you write all of your own lyrics as well as the music? Did you have any training or did singing come naturally?
Eye of the Nine: I don't really consider myself shred, I just kind of play what comes out. I do write all the guitar parts and I co wrote lyrics with Mike Gage the drummer and co producer. This project has been one of those things that just took shape in many forms with a lot of random things that just worked.
I have never been a singer, never sang on anything or for anyone. My first singing ever was on the track EYE OF THE NINE. It literally was a fluke. I just ran through a few takes, literally vamping lyrics and that song was written, recorded, and done in a day. I really have a hard time saying I am a singer. Its a strange title for me to hear seeing as I have never been a singer before in my life.
"Eye Of The Nine"
http://youtu.be/M7LDdInVfZI
Our process hasn't changed and we write what we feel as we go along and nail out a song in a day and go back and work out kinks later, but we do not sit around writing one track for 6 months and rehearsing it . We like the happy accidents that come about when you have no set objective in mind.
Skope: You've got some legendary rock guitarists on your debut Eye of the Nine, including Dokken's George Lynch, David Lee Roth's Billy Sheehan and Tony McAlpine… to name just a few. How did you end up with such an amazing group of players on your debut album?
Eye of the Nine: We started the project not really knowing what it would be and just started offering some guest spots to some of our friends and just kind of became a thing. Its odd because I have yet to look back and soak this in that as a kid at age 14 I actually wrote down as a goal of mine that one day I would have George Lynch and Billy Sheehan play on an album one day. As it went along it just kind of evolved and we have had a ton of players and management guys reaching out asking if they can get on the project as a guest artist. That is how we built Dangerous Guitar and its all been through relationships we have.
Skope: Speaking of amazing players, you have a solid lineup of band mates as well. Who are they and what do they do?
Eye of the Nine: The full static band is myself, Mike Gage who is a quadruple platinum recording artists and my co-writer on EO9 and also co producer . Pancho Tomaselli and Gabe Rosales will be switching between bass and guitar and keys Pancho plays for WAR and Gabe has played for Lynch Mob, Jennifer Lopez, Andy Summers, and a million A list bands. We also have an up and coming kiler player that works with us at DG named Jonan Rigsbee, he is definitely a player to keep your eye on and will be around for a long time. Dave Reffet will also be joining us for the touring band. Then we have master percussionist Jamal Mohammad who has player with Sting and Stewart Copeland and runs the World Music Dept at SMU University in Dallas. Guest artists are George Lynch, Billy Sheehan ( David Lee Roth, Mr Big, Winery Dogs), Richie Kotzen (Mr Big, Winery Dogs), Doug Aldrich ( Dio, Whitesnake) and Tony Macalpine and few others we will name later.
Skope: When is the album coming out and are you going to tour nationwide in support of it?
Eye of the Nine: Middle of   February 2014 is when we will be releasing the album.   We have some touring we are working on and as far as Guest artists joining us live…..well… we have some that will be showing up on some of the dates and some that may just be with us on more than a few but we don't want to run the surprises.
We are currently working on a film score and soundtrack for a movie called SUICIDE WITH A VIEW that will start filming in Turkey next year written by Tufan Kilinc. This has opened up some talks about a tour spanning Turkey and other parts of Europe for a few months.
Skope: Would you say that Eye of the Nine appeals to fans of 80's hard rock? What can fans expect of the band live?
Eye of the Nine: Its funny we have been called OLD SCHOOL Metal, Old School Rock, and a ton of other genres Ive never heard of. But we have fans all over the world and of every age. We have kids in Brazil that are die HARD EO9 fans and in Canada as well. I MEAN HARDCORE FANS!! LIve will be a task as we will need 5 backing vocalists which we will utilize some members of the band for, but need 3 guitarists as well.
It will not be a bar scene tour, we will have more of a dramatic effect like a play with some various videos playing and acting going on along with some interludes involving violins and cellos. Again, I really hate to give away too much but I can say it will be more than just a group of guys belting out tunes on a smokey stage . The tour in Turkey we are discussing is 50K plus seat arenas.
Skope: Where can Skope readers find all things Eye of the Nine?
Eye of the Nine: Our website: EyeOfTheNine.com or our Facebok page which you can find at the lower part of the website . Additionally we will start posting behind the scenes videos on our youtube page of the recording process.
Check out Eye of the Nine @ http://eyeofthenine.com for some sick hard rock packed with some of the greatest guitars of our time. And make sure to brush up on your skills @ dangerousguitar.com.
Douglas Garnett – http://digdugdisaster.com – douglas.garnett@gmail.com