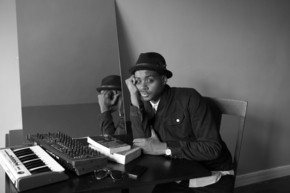 Twenty-four-year-old pianist Kris Bowers has grown up in an era of highly accelerated technological advancement. Digital technology has afforded him and his contemporaries access to unprecedented levels of information and communication channels. In many respects, his generation is more powerful than any that has come before it.
Bowers' awareness of this power and potential is at the heart of Heroes + Misfits, an ambitious debut album that positions him at the forefront of a talented sextet and showcases a musical and compositional style that — while clearly rooted in the jazz tradition — is also reflective of an eclectic musical age. Heroes + Misfits is set for release on March 4, 2014, on Concord Jazz Records.
Listen to First Single "Forget-er" Here: http://bit.ly/IB6nVP
The sense of creative eclecticism and diversity woven into Heroes + Misfits is characteristic of a generation that has been exposed to more information than any other generation in history, says Bowers, winner of the annual Thelonious Monk International Jazz Piano Competition at the end of 2011. While the sheer volume of information can be potentially overwhelming, it can also be empowering when channeled properly.