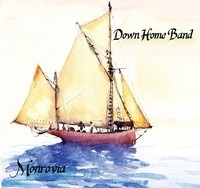 Ah, the siren call effect that Nashville has on artists…it's almost as if the record industry allure of Los Angeles and the "If I can make it here…" New York attitude paired in a north central city in Tennessee. That also happens to claim country music headquarters and may be one of the bigger singer/songwriter towns around. So, when I hear of a recent relocation to the city, I'm not usually surprised. And such is the case with alt country Americana outfit, Down Home. After all, there is a home there for their genre-laden amalgam of blues tinge, songwriter sentiment and folksy rock. Now set to release their debut full-length, DHB brings every musical facet at their disposal on Monrovia.
Take "Cajun Queen" with its vivid New Orleans imagery in the lyrical matter. DHB captured the ethos of the track with a complementary "swamp rock" feel of blues electric fills over blues-tinged acoustic pick and strum work, complete with obligatory harmonica honks through to the outro. Paired with the "Cajun and crawdad" lyrics the song as a whole comes full circle. "Son of Mine" is a heartfelt homage to the importance of family after a series of encouraging letters came soon after Estes' relocation. The demure track opens to solo acoustic and vocal tandem with distorted electric strums at the fills. When the song structure, the vocal delivery and harmonized chorus come together it gives this track a definitive Avett Brothers feel in the execution. The Americana rock comes through on "Come On Home" with alt country leanings, rat-a-tat percussion work and honky tonk style acoustic/electric guitar interplay. More vivid imagery in the lyrical matter is a testament to the strong songwriting consideration. Two clever time changes makes "Vagabond Blues" wax and wane between acoustic-led honky stomp to down tempo blues number and back amidst more clever lyrical matter. "Oh My Baby" blasts out of the gate with more frantic acoustic strum and electric chord work over the agro rhythm section beat keeping. What shines on this track is the multiple instrumental soundscapes stay appropriately just beneath the vocals allowing the pristine harmonized chorus to come through squeaky clean. "Old 95" opens to Appalachia pick acoustic and electric strum while lyrically it sounds to be a shout out to touring (all of us Eastern seaboarders who travel totally GET this track). When the pick acoustic and gruff electric meld with the beat keeping, the alt country shines and I never get tired of that.
"cajun Queen"
http://www.youtube.com/watch?v=5QqHBq9xvsg
Since only relocating earlier this year and the work they've put in during that brief scope of time; DHB certainly has the work ethic to make it in Nashville. And the work put in on this album reflects that sentiment. The songwriting is a definite strength, the effortless blending of genre facets is honest and the album top to bottom is done well in execution and production. Not only is it a welcome addition to the genre but also a nice representation of what the genre has become. A rather respectable first full-length that anyone should be happy to have on their resume.  
Buy: http://paltip.com/skopeing/!2psn9
by Chris West – cwestlaz@gmail.com
I give this 4 Skopes.