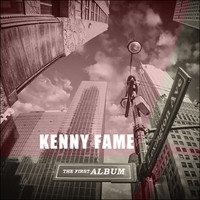 Kenny Fame — the stage name of Levi Wise Kenneth Catoe, Jr. — is a Paterson NJ native who moved to NYC the day after graduating high school. He has since become a fixture on the city's spoken-word poetry scene. These poetic pursuits led to him writing lyrics, which in turn led to the composition of songs. Having upped his instrumental I.Q., the young talent now releases his debut The First Album, a mix of "Indie-Folk / Urban-Funk / Dance-Pop."
The track "Rejoicing" kicks off with this spunky little guitar riff. It well complements Fame's vocals. The lyrics are a bit trippy: "I'm traveling through space / I've lost my arms / I've lost my face." Despite losing these vital body parts, the speaker is in the mood for 'rejoicing.' On a separate note, a rather interesting change of pace occurs at 1:55.
The track "Hometown Glory" (an Adele cover) immediately establishes a contemplative feel. For the first minute, it's just Fame's voice and a few acoustic guitar chords. Then, we get a bit of percussion. With the way Fame sings about being "united," I get a sense that he intends this cover to convey a social consciousness. I also wonder: is he thinking of Paterson NJ here? Either way, there is a display of considerable vocal range on this track. There is also a certain spontaneity to Fame's delivery. It's almost like vocal improv. Perhaps his background in spoken-word poetry has factored in here.
"Another Man's Woman" MP3:
Oh my. Now we get a cover of Miley's infamous "Wrecking Ball." And, you know what, I dig Fame's rendition. He's got some guts as well: covering a song of such notoriety, you really risk striking out badly. But Fame's cover here is engagingly raw. He conveys a real sense of sincerity. I think this cover would thrive at a live venue.      
On a more chilled out note, we have Fame's rendition of "Will You Still Love Me Tomorrow." I don't dig it quite as much as the Miley cover, but it still has its soulful moments (and some nice bass notes).
Well, Mr. Fame has 'the first album' down. Will there be a second? Get the latest scoop at: http://tatemusicgroup.com/epk/?id=25195
And, of course, dig the music at: https://www.reverbnation.com/3293054
Ray Cavanaugh – owleyesgatsby@yahoo.com