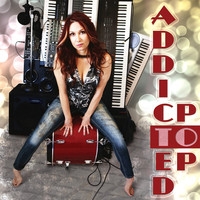 When Lana Antropova's husband decided to disband their musical duo in lieu of another project, the usual emotions welled up. Loss and abandonment took the place of the creative outlet she had enjoyed alongside her significant other, but instead of wallowing in any defeat, she opted to revisit an old love: the synthy beats of Europop. She has now assumed the moniker Addicted To Pop and poured her creativity into her solo debut; a five-track, self-titled EP. The vibey, synthy backdrop upon which Lana casts her haunting vocals harkens her and the listener back to the likes of European house electronica.
While the electronica dominates the musicality of the EP, Antropova's lush vocals cut through the prefab instrumentation on "Outcast." Opening to generated beats and synth blasts, the Europop leanings are evident and cast the album for what it is. The keys do complement and somewhat bolster the vocal delivery, however on their own merit, the vocals come through a bit hollow. "My Real Name" shows a different level of depth to the album with the synth assuming a slight backseat with fills, allowing the effects-laden vocals to pop and move the foreground of the track, much the way Cher's use of Auto-tune did on "Believe." The socially aware "Mail Order Bride" retells the story of Lana meeting and marrying her husband Tim (despite not actually being a Mail Order Bride). The purpose of the track is to bring awareness of the stigma via a poignant and quite pretty ballad. Again, the electronic musicality fades to melody while Lana's vocals carry the tune through more tuned backing vocals to fruition.
Considering the equipment used to produce the EP, the DIY nature of the album does come through the tracks regardless of any post-production cooking via Logic Studio, leaving the tracks feeling like they are missing some element that would add a solid foundation to the songs. However, transitioning from simply adding piano and vocal arrangements to what were by and large "his" songs, this is a respectable enough first outing. Everyone has to start somewhere.
by Chris West – cwestlaz@gmail.com
I give this 2.5 Skopes.