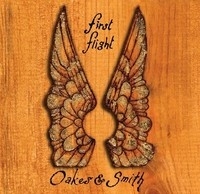 Folksy with a bit of adult contemporary and bluegrass flourishes make up most of First Flight, the new album by Oakes & Smith. The duo has created a passionate and intimate album full of meditations and breezy themes.
First Flight starts off with Once, a very 70's AC song that reminds me of acts like The Carpenters or Fleetwood Mac. The duo brings back storytelling instead of pop singalongs.
Factory Girl stomps along with a kick drum thud and heavy bassline, then the bluegrass harmonies and Country Western vocals come in to compliment the track. The violin solo adds a nice touch and authenticity.
You Beside Me sounds like a more traditional country song with Oakes & Smith's trademark soaring harmonies front and center.
Oceans Apart is a ballad that has a Paul Simon influence, while Before Dawn begins with a reverb soaked piano and flute which takes it's time in building before the song sneaks up on the listener. Like a well placed interlude between songs, giving us time to reflect as Smith spins her tale.
Hold On To Your Dream gives Oakes the lead, his baritone blends well with the Country Western flair, then it goes to Dolly Parton territory. This sounds like a song that Dolly should have written.
By The Ocean starts with another breezy flute lead, somehow giving this track a New Age feel, combined with traditional folk.
Poor Wayfaring Stranger picks up the pace a bit and strays into blues territory, which fares well with Smith's meloncholy voice. The duo sounds right at home here.
Being Broken is another ballad which gives turns on the two taking leads before they harmonize. A nice acoustic guitar solo makes an appearance midway through the song. What started out as somewhat of a downer turns into optimism as the song nears the end. A nice change of pace.
First Flight is next followed by Stay True, both which surf familiar sonic turf, ethereal and almost floating in space, their voices harmonizing and playing off one another.
When I Woke is the final track on First Flight and captures all of the trademarks of Oakes & Smith. With it's piano, bass and drum backing it is the perfect way to end the album, with an almost progressive feel and capturing the 70's era bands they've been influenced by.