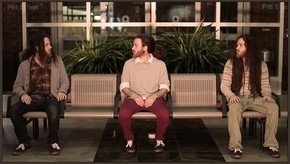 Hello people of the world, we are back at it on this Tuesday in November of 2013. Before we begin today I have to comment on an article on Examiner.com how Interscope spent $25 million on Lady Gaga's marketing & distribution of her new album and the ROI is not what they hoped. Can you imagine if Interscope spread that money around and did some new artist development. Maybe they just want to put out Eminem & Lady Gaga albums forever? On another note, we got an email about 12-year-old Carson Leuders and his new single "Get to Know You Girl." The song is catchy but I wonder how young is too young. The music biz can be a sinful place and I just hope that Carson has the right people around him. Now lets get to my awesome guest this week, Matt Lalonde. Matt is currently promoting his new album 'Medicinal' and his single "I Don't Play." Many big name musicians have come from Canada and I feel like Matt is on his way. Join me this week as Matt speaks on getting cold in Windsor, ON, CA, Canadian musicians, being an independent artist in 2013, "Cigarettes", and so much more!
Stoli: Where are we talking from and is it getting cold in Windsor, ON, CA yet?
You're joining me at my kitchen table in my apartment in Windsor, Ontario that also serves as a audio and video editing studio. I also eat here sometimes. Windsor is finally cooling down, which I will love for the next month before it gets too cold. Its the perfect weather right now for my plethora of jackets. It's my favourite time of year because it means I have optimal pocket space. I tend to carry around more things on my person than most girls do in their purses.  
Stoli: Would you say that the cold Canada weather makes you more inclined to write music or less?
Definitely more since it means ample amount of time spent inside. The bleak weather can also inspire some deeper thought which helps when writing. Usually when its spring or summer I'll be playing and rehearsing for shows. Winter is a down time from that, and I guess I'm programmed to consider it a time to write. I'm already in the beginning stages of a collaboration project with another Windsor artist and my debut solo album has yet to be released. I'm not a fan of having nothing to do, which one can fall deeply into that slump when the weather turns.
Stoli: At what point in life did music become less of a hobby and more of a career?
When I came to Windsor in 2006 I joined up with my band MicLordz & Sauce Funky. I was a TERRIBLE musician, but I really wanted to get better. They went out on a limb to give me a shot and I'm forever grateful for that. It was then that I finally found what it was that I wanted to do. I initially came here on the urgings of my parents, who picked a school and picked a degree for me to do then sent me on my way. When music entered into my life and I started taking it seriously and I realized that this was something I could do as a career. Now music has been supporting me for the last 2 years.
Stoli: I love the video & single for "I Don't Play." Who came up with the theme for the video and how does that translate to the meaning of the song?
There is a correlation between the music and video, but I do like to leave it up to interpretation of the viewers/listeners. The song humorously outlines, in a VERY fictional story, that I have just killed my girlfriend and that I'm not so unhappy about it. I decided that I wanted to do a 2 part music video with one storyline, using 2 of my songs. The songs have a huge contrast in style and genre which worked well for this. The video for 'I Don't Play', part 1, depicts me running away in desperation because of some catastrophe of sorts, which could be because I'm wanted for murder. The follow up video, to be released in November sometime, will show me joining the circus. Simply put, I'm running away to join the circus.
Link to new music video for 'I Don't Play':
http://www.youtube.com/watch?v=Kd7gpVpbjGk
Stoli: I just read a great review of the new album 'Medicinal.' First off do you get nervous about how your new music will be received and how long was this album in the works for?
That review was from Churchouse.ca and I have to give them a big shout out and thank you for doing that. They said wonderful things, which is very nice to hear from a reviewer on your first solo effort. I'd like to sit here and be the guy who says 'I don't care, people can think what they want,' but in all reality if I didn't care what people thought I wouldn't be trying to release it in such a grand forum. I definitely get nervous about how it will be received, but what I can say is that whether positive or negative it won't stop me from continuing.
As for the development of the album, I had previously tried a few different times to record a body of songs for album purposes, but it wasn't working out. I had developed the tools to be able to play and record all the instruments necessary over the past few years so there was no cost and no time limit, which is dangerous for me. If there is no deadline then I won't get things done. Finally I set aside about 2 weeks to just hammer it out. I sat in my leaky, unfinished, cement basement with a bunch of instruments and gear and didn't leave until it was done. It all came together fast because I had set myself a timeline to finish it. So within about a month and a half I had the album mixed, mastered and printed, pressed up and sitting in my apartment, the web site and all social media was set up and I had my first music video done. Then I went to bed.
Stoli: Tell us a bit about Universal Animal Entertainment and what your role in that music venture?
I developed this label a little while back when we were trying to bring Sen Dog of Cypress Hill into Canada to tour. We needed to own a company in order to do this when dealing with the border. I was the sole proprietor of the company and over time I decided to take it and turn it into something to help my friends/local artists attract a little more attention. I host and operate the web site and try to link people up with each other (ie. aspiring videographers with aspiring musicians.) The hope is to make connections happen and bring attention to the vast amount of talent that Windsor has to offer, but nobody seems to see or hear. The problem is we're too Americanized for the rest of Canada, but there's always the border to deal with considering venturing into America. Its an absolute shame because there's things going on here that are different, and many times much more interesting then what's happening elsewhere. I think its because of our proximity to the United States that we tend to have a slightly different mind frame then the rest of Canada.
Stoli: Canadian musicians have been having great success in the US for years. Who is one musician that you admire and how important are the music fans in the US?
You're right, there seems to be a shift in that Canadians are starting to travel and find there way into some American scenes. We in Windsor have been doing it out of necessity because we seem to fit in a little better. I really like playing in the States because the crowds have a great response to the live shows. They really get into it. My friends and fans in the United States are an incredibly integral part of what allows touring to be possible. If I had to pick one person, I'd choose Jack White. I'm very impressed and intrigued by what he has done not just in terms of writing and performing. I had the chance to visit his Studio in Nashville and it was incredible. He had taken the images in his mind, his own little world, and built them in real life. That's what I'm a big believer in. I like to tell other artist to picture themselves in a scene, a painting. Imagine all the things that make you feel different, excited, curious and build a world around it. What's around you? Whatever they answer is what I think they should gear their music, life, persona around. What I'm saying is, figure out your dream/fantasy world and then live it every day. That's what I think Jack White does very well.
Stoli: You have all your social media outlets covered from Reverbnation to Facebook. What site are you on the most and find most effective in gaining & keeping fans?
The connection between Facebook and Youtube makes it very easy for artists to be active and correspond with fans. Times have changed and musicians can't expect to sit in a studio for 3 months, release an album, tour for a year and then do it again. Nobody is waiting for you because at the click of a button you can see 1000 new things. You can be easily forgotten if you're not active. I'm trying to put out as much as I can, as frequently as I can. Its hard because I have to force myself not to be a perfectionist and just release music and videos as often as possible. I'm a big believer in that if a song is great, a song is great, period. All the flash in the world can't force a song to be timeless. Its up the the writer.
Stoli: Your song "Cigarette" kicks ass but smoking is very bad for you. Do you feel bad promoting a bad habit and do you plan to quit ever?
I do plan on quitting. I'm trying to reach that optimal rasp in my voice and then quit. Just kidding. But I did feel a little uneasy about portraying it in I guess what could be called a positive light, but I was just being honest, except about the never quitting part. To be completely honest, it was an idea that just came to me randomly one day. The more I thought about it I couldn't put my finger on another song or video that had really done that. All I really want to do with this project/music in general is have a good time and I thought it was a funny song and video. I figured others would find the humour it as well. It has become the anthem of a lot of my musician friends around here who are smokers.
Stoli: What is the most challenging & rewarding thing about being an independent artist in 2013 and would you consider signing to a major label?
I would absolutely love if someone was taking care of all the business ends of things. All I really want to do is write and perform, for now. If I was approached by a major and they could do things that I can't do myself then I would definitely consider it. Its very difficult to rise above the crowd since the market is so open and available now. It's bittersweet to have things like facebook and youtube. Youtube is now radio for the younger generations and I can freely upload my music for them to hear and see which is great. The tough part is that so can the rest of the world. It really forces you to be as creative, relevant and active as possible. To stand out among the crowd is tough when the crowd is so big, but again, it all comes down to the writing.
Stoli: What is coming up for Matt Lalonde and where are you and the album @ online?
My drummer, Jordan Tough, and I will be hosting a CD release in Windsor, Ontario coming up in the winter time and also doing a couple of dates around Ontario with a fellow Windsor artist, Dave Russell. Part 2 of my short film/music video will be released in November as well. I'm planning on hitting the road on tour at the end of this year and into next year, and hopefully not coming back for a while. I absolutely love it on the road. My truck is one of my best friends. All my tour dates will be posted on my web site and across my social media. As well my album is now available on iTunes. Here are all the links for the info if people are interested. Thanks for taking the time to chat Stoli!
www.UniversalAnimalEnt.com
www.MattLalonde.com
www.facebook.com/MattLalondemusic
www.twitter.com/LalondeMatt
www.youtube.com/OfficialMattLalonde
http://itunes.apple.com/ca/artist/matt-lalonde/id688863198?ign-mpt=uo%3D4