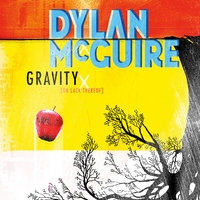 Philadelphia musician-songwriter Dylan McGuire first garnered attention a decade ago with his band Broken Jones. Then, in 2009, some of his own compositions were featured on the broadcasts of baseball's National League playoffs. Now, drawing on such influences as Radiohead and U2, McGuire has released his solo album Gravity (Or Lack Thereof).
The track "Sunny and 71" wastes not a nanosecond in getting launched into a state of guitar & percussion rhapsody. The chorus is pretty damn catchy. That part doesn't take long to get to either.
Have a listen at 0:35. Overall, the song seems upbeat, which I suppose makes sense, because "sunny and 71" is ideal weather, for most people.
The track "Changed" has a simple but fine arrangement of raucous bar chords. By the way, McGuire has a fine rock voice, which I could just of easily have mentioned while commenting on the previous track.
Artist: Dylan McGuire
Song: Sunny & 71
MP3: http://k002.kiwi6.com/hotlink/15374qnwhm/01_sunny_and_71_1.mp3
"My New Wings" has more of a buildup than the prior tracks. It also seems to have a bit more of a brooding edge, at least initially. Have a listen to the vocal explosion at 0:33. Mega infusion of soul. I love the way McGuire howls the lyrics: "This is my story."
The track "Wear it on your Sleeve" seems to be an anthem of self-identity & expression: "Wear it on your sleeve / Whatever you believe…Don't ever let them bring you down." …But who is the "them" here ? Ruthless muscle-bound jocks? Authoritarian teachers? Bitchy materialists? Nagging lunch-ladies? Whatever the case, this track features a glorious guitar solo towards its end.
"Tracy Likes" is a fine song to listen to if/when you've just discovered that ya got a bit of a crush on someone. At 2:20 comes this wailing guitar solo, which adds to the emotional hysteria.
Listening to the track "Chicago," it clicks in my brain that McGuire reminds me of this fine soulful rock band (since abolished, sadly) from Maine called Jeremiah Freed.
I could easily see McGuire doing well on a college rock tour. I'm still not entirely sure what the album's full title implies, but it's a fine album indeed. As inspired as it is unpretentious.
To sample & purchase: http://www.cdbaby.com/cd/dylanmcguire1
For further info: http://www.dylanmcguire.com/
Ray Cavanaugh – owleyesgatsby@yahoo.com