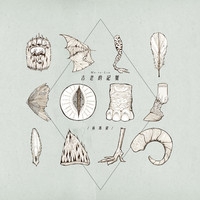 Formed only last year, the Taiwanese band Ma-Te Lin is a musical duo consisting of vocalist Asha Lin and DJ-producer Shao-Yong Huang.
Drawing on such influences as Portishead, the two purvey their own brand of electronic music. They also have a socially-conscious bent, writing that: "We are inspired by many stories involving human and animal interaction, including the abuse of elephants, and the effect on wildlife after the Fukushima Daiichi nuclear disaster."
Injustices aside, we now have the band's debut, an EP called Ancient Mark.
Ancient Mark (Exclusive Acoustic Performance):
http://www.youtube.com/watch?v=rm13UqjkHiA
The title track is exotic in a postmodern sense. There's something flirty and kittenish about the vocals. About 1:30 in, we really start to get some stimulating beats.
There seems something a bit more murky and haunting about the track "Elephant Say." Perhaps the band is channeling its views on the abuse of elephants. We get some industrial sounds that bang as heavy as an elephant stomp. Such sounds provide an interesting contrast to the vocals, which remain quite delicate. I think it works.
"Nuke's Trick" starts out with these almost playful-sounding teardrop effects. It's kind of eerie, considering that the song is presumably about the effect of nuclear disaster. Even the song's informal title adds to this sense of eerie playfulness.
"Where is My Feeling" begins on a very soft note. For a while, the vocals are on the verge of a whisper. The background piano (or is it keyboard?) is just as subdued. Eventually, however, the vocals grow more emphatic.
There's another track designated as "????" (or is it merely untitled ?). It has a bass as thick as an elephant tusk. The song's latter part conveys something of an intoxicated carnival atmosphere.
The Ancient Mark EP is quirky and unpredictable. This ain't something you're going to encounter much on the radio.
Take your ears to Taiwan with a single mouse-click: http://www.sonicbids.com/matelin
Connoisseurs of the visual might wish to check out the website for the work of the band's "artistic liaison" Mina Shin, who provides a color & shape correlative to the band's music: http://matelin.com/
https://ma-te-lin.bandcamp.com/music
 
Ray Cavanaugh – owleyesgatsby@yahoo.com