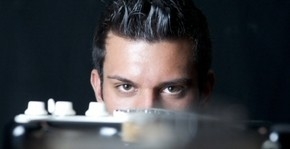 Passion is a word that I rarely use to describe artists in this day of AutoTune and soul sucking corporate music, so it's refreshing to hear an artist who's not only passionate about his music, but is also more than capable of turning that passion into something almost magical. The songs are pure, honest and full of emotion, yet also layered, complex and really catchy. Matthew Neves is one of those musicians that makes others jealous at the sheer talent packaged into just one man. Think Dave Grohl if he weren't as grunge and had an aptitude for harmony and elaborate guitar playing.
Skope: Upon listening I hear so many influences from 60's dream pop to Curt Cobain's raspiness. Who are your influences for the album?
Matthew: I am a big fan of the Beatles. Also, 90's rock has always been my favorite era of music. You may hear a wide variety of influences throughout the album but I would say I have my own style.
Skope: How would you describe "You and Me" to Skope readers?
Matthew: The title represents songs about you and me. The general public can easily relate to the lyrics. The album is diverse and there's something in it for everybody.
Matthew Neves – "Eyes of an Angel"
http://www.youtube.com/watch?v=BY1DcpZQSaA
Skope: I read that you wrote and produced the album yourself, the album sounds very lush. What did you use to record the album?
Matthew: I produce all of my own music because I like to be in control of it. I have a state of the art recording studio in my home and use Cubase as my production program. I do not use AutoTune or any vocal pitch enhancing programs because it sounds artificial. I am a purist and want my sound to be as natural as possible. Sometimes technology can make an artist lazy and that can detract from their maximum potential.
Skope: Do you only produce your own music or do you produce other artists as well?
Matthew: I produce other artists on my off time to stay busy. I also like to write scores for films and music for commercials. I actually took a year off (2012) to write, perform and produce an entire album for an X Factor Season 2 finalist who made the top 12.
Skope: There are some exceptional guitars on the album, how long have you been playing guitar and who do you listen to for inspiration?
Matthew: I've been playing guitar since I was 4 years old. I also started playing drums, bass guitar and keyboards around the same age. I don't really have a single guitarist that I listen to for inspiration. I like to listen to many different genres of music from various eras. I am inspired by great musicians in general and it does not matter what instrument they happen to play.
Skope: I hear you're preparing to tour in 2014 in support of "You and Me". Can you tell us where you'll be heading?
Matthew: Right now the tour will include New York and Nashville.
Skope: What can audiences expect when seeing you live?
Matthew: The audience can expect a high energy performance. I put my heart and soul into every live show and I always have the best musicians for live events so the sound is tight. I want all my shows to be memorable.
Skope: Besides yourself, who else is in your band and what do they do?
Matthew: I like to play with different musicians. When I am planning a tour, I try to hire the best musicians who will be suited for the tour. I have used Timothy Parkin as my bassist for live events throughout my career.
Skope: Your video for "Eyes of an Angel" is getting a lot of attention on YouTube. Is that song about someone you know personally or an amalgam?
Matthew: The song was not written about anyone in particular. It is about couples who grow distant because they are so concerned about their careers that they don't have time for each other.
Skope: How has YouTube affected your career as an artist? You have a lot of views for your songs, do you monetize your videos?
Matthew: YouTube has given me the opportunity to broaden my fan base across the world and also give a visual to the music. I monetize all of my music videos.
Skope: What's the future look like for Matthew Neves and is there anything else you'd like to say to our readers?
Matthew: I hope to win a Grammy someday and be recognized for my diligence, passion and great music.
Check out Matthew's new album "You And Me" @ http://matthewneves.com
Douglas Garnett – douglas.garnett@gmail.com – http://digdugdisaster.com