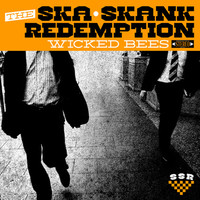 It is with much fondness that I recall my first Fishbone show… I had never seen instrumentation used like that; I remember the energy was borderline overwhelming and the feeling the frantic pace of the show and music evoked was habit-forming. Needless to say, Ska has remained in my musical heart ever since. Listening to the Wicked Bees' EP, Ska Skank Redmeption evokes many of those same memories.
Opening to "Hit and Run" with it's bouncing bass intro, strum electric chord progression and blaring horns all wrapped in a Calypso-tinged melody, it's apparent that the Bees wear their genre on their sleeve. Fun, upbeat and lighthearted; this track sets a precedent for the album as a whole–heavy horn leanings. "Sheila" turns the frantic pace down with its mid-tempo Reggae leanings. The staccato electric notes hold the tempo for the vocal delivery and horn section to lay down the full melody of the track. The vocal delivery stands at the foreground and what's noticeable is the approach in that these tracks are simply sung with "melodic" in mind rather the addition of any contrived growl or rasp. The horn section shows its prowess at the midpoint break with full blasts on the trombone solo and accompanying drum kit destruction on rhythm. This one evokes past sounds of a mid tempo Reel Big Fish track, with just enough pop sentiment to it. "Age Like Wine" brings back the rabid pace accompanied by anecdotal lyrical matter. The track is clean, the notes deliberate and again it brings back the lighthearted, fun feel of the album ethos. The horn interplay of trumpet, sax and trombones at the midpoint is again, pristine and plays to the veritable strength of the horn section. Full frantic is the intro pace on "Minnesota" with heavy leanings on distorted electric guitar while the horns add fills and an undercurrent of melody. This one has the heaviest dose of punk of the five tracks. Finally, the second track named after a girl, "Christine" closes the album with more staccato strum, blasts of horn and chug guitar underneath the brass and vocals. The sax solo at the midpoint is the brightest horn section offering on the EP.
Fun, funky and dancey. The tracks are tight and concise packages of big sound and instrumentation and the production work is well executed. Though I've never seen them live, I get the feel the Bees were able to bottle some of the raw energy of their stage presence and lay it down in the recording process and this certainly comes though in the achieved sound on the album.        
by Chris West – cwestlaz@gmail.com
http://skaskankredemption.bandcamp.com/album/wicked-bees
I give this 3/5 Skopes.