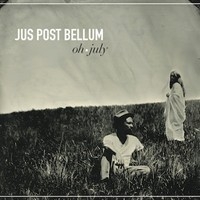 If you're a fan of the singer songwriter Genre like me, then more than likely it doesn't take much to upset you these days. And the lethargy just hasn't been the same since your ex girlfriend finally gave you a reason to think twice: in the form of a surprise altercation with a Car accident. The layoffs, the top ramen, and the student loan bill doesn't help you get an Iphone, but at least theres hope.
 
For those of you who out there looking to pick yourselves up from a waste of time, well I've got the perfect remedy for you. The pill in question comes in the form of an 11 track Superjesus called "Oh July", produced with meticulous perfection by Brooklyn 4 piece Jus Post Bellum.
Jus Post Bellum, which translates from Latin to Justice after War, is an outfit that dedicates itself to making songs inspired by the American Civil war. Now being that a majority of the band are from Minnesota, one could imagine that going from Census to Melting pot would inspire you to write down a few things. Fortunately the themes of love and loss could be interpreted as patient regret from…a dozen places. The fact that the album sounds like a dream from a folk hero's autobiography is irrelevant…and you like that. So are we I really in for with this one?
Its very good. Probably the most sincere collection of hand holding I've ever heard. Like I said, the album's written so clearly that anyone will be able to abstract happily from this. 6 seconds into the first track "Abe and Johnny", you'd probably figure you wasted your money. The odds of a soldier using this kind of vernacular in the civil war just weirds you out. You figure acoustic vindication a la Mope Rock with a side of Jeff Buckley (jutsu) isn't anything you haven't heard 45 Bags of Funyons before this.
 
The fact that you love awkward pauses has nothing to do with the fact that you absolutely melt when you hear the staccato cello hum on Gimme That Gun, or the kitch ringling sarcasm of Sonny..you get the feeling the record is more than just a preemptive strike on your choice of facial hair. Approximately 35 minutes later, the LP finishes. From here you can choose to either appreciate the fact, or try to spend a more constructive time to end your time more wisely. Who knows: maybe you should Google Oscar Wild next time instead of Break fluid, or maybe you should just add your name to the band's updates. Its kind of a win-win situation here, so keep an eye out for this one in the next year. Jus Post Bellum, magnificent.
https://www.facebook.com/JusPostBellum
 
Robin Kale – robinne.gilmore@gmail.com