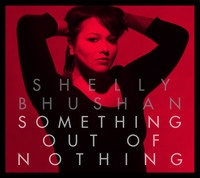 Shelly Bhushan is a Texas born siren that now resides in NYC where she is celebrating her fourth release, Something Out of Nothing. Her powerhouse voice belts out the songs with passion and grace.
This fourth release and second full length CD is a vibrant mesh of Bhushan's talent. She pours her heart out into the song, Unrequited Love. Singing each word with the same passion felt as she wrote them. It is less produced than the rest of the CD but sometimes less is more as she proves it to be the case on this succinct message. The grooves continue to dance in your head with the song, Never Let You Go. It rolls across your ears smooth as silk. Then I was knocked off my feet with, Moon, one of my personal favorites. A lone piano taps out a string of emotions as her voice soothes away the rough edges of the day.
"Feather"
https://soundcloud.com/shellybhushan/feather
Her soulful vibe is backed with a no nonsense attitude lyrically and sonically. She tells it like it is and is unapologetic of who she is and what she is feeling. It cannot be helped to be swept away into Bhushan's little world. Quite honestly it is a very cool place to visit.
Personally, I am in awe of Shelly Bhushan's style and expertise she displays with such precision. The CD, Something Out of Nothing is a piece of art that deserves recognition and attention. Her crystal clear voice shines above the best in the business and is a body of work she has every right to be extremely proud of the end results. Do not miss out on the opportunity to be a part of this woman's soaring career. You can hear it first here get your copy today. Click here to stream "Feather", the focus track.
I rate this 5 out 5.
Rebecca Hosking – hoskingrebecca@gmail.com