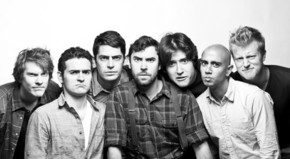 On October 8 award-winning, seven-member indie-folk band/theater troupe PigPen Theatre Co. released The Way I'm Running, a five-song EP of all new material. Recorded in New York City with producer Ron Robinson Jr., the songs were conceived and arranged on the road as the band toured in support of their critically acclaimed debut album, Bremen, named one of the top 10 albums of 2012 by The Huffington Post.
Lead track "Song from the Stone":
https://soundcloud.com/pigpentheatreco/song-from-the-stone
In addition to touring the U.S. this summer, PigPen spent two weeks in residence at the Williamstown Theatre Festival workshopping the new Chicago production of their Off-Broadway hit The Old Man and The Old Moon. The show, which played more than 100 performances in NYC last fall, will have its Chicago debut in a new production at Writers' Theatre running September 3—November 10.
http://pigpentheatreco.bandcamp.com/album/the-way-im-running