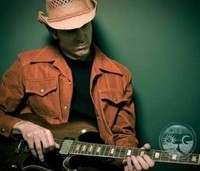 With a revolutionary approach, insightful and approachable Folk-Pop sentiment and stars in his eyes; singer/songwriter (and psychotherapist) Adam Zwig has perhaps one of the most unique approaches to music within the music body collective. Leaning on topics of interconnectedness, universality and healing, his tracks transcend typical contemporary lyrical matter. His latest offering is still in the vein of "musical healing" with Visions of the Shimmering Night–12-tracks of emotive, hopeful lyrical topics that seek to continue his work as "Rock & Roll Therapist" slowly attempting to mend the human condition one insightful track at a time.
"Everybody Love"
http://youtu.be/_b5n-mny1lM
"Everybody Love" is the first album single and has garnered praise from critics, TV programs and radio stations alike. Opening to bent note electric, this down tempo track lays a foundation for the album. The demure backing musicality complements Zwig's soothing, calm vocals. The melody is simple and straightforward with slight instrumentation of percussion and guitar work, which draws the listener to the ever-important message of the chorus: "everybody love." The universality of such a simple message tends to get lost on the daily grind of life and Zwig's attempt is to bring us back to a state of awareness of this most basic of premises. "Waiting For Heaven" opens with strum guitar work and vocal composition with the lyrics again casting Zwig in deep contemplation. Steel and piano make cameos on this one while the musicality is led by backing percussion and the ever-present guitar, keeping within the folksy ethos of Zwig's songwriting. Opening with piano melody, "Can't Afford to Fall" builds through the opening verse with instrumentation gradually joining. The dramatic vocal delivery adds to the eerie vein of the track but the hopeful lyrics shine through with more introspective matter. The midpoint instrumental segment features a Blues note guitar-led melody alongside weepy backing strings as the piano vein runs through the piece until it crescendos to an orchestral outro.
The approach of "singer/songwriter as healer" is one I haven't come across in my years in the industry and what that approach conveys to the music is quite refreshing, organic and honest. His unabashed dedication to "helping" listeners, with music as catharsis, is also noteworthy amongst other artists of the genre. This is a good story to come out of the music industry and one that we could probably use more of. Selfless, honest and positive in its nature and execution; give me more of this any day.              
by Chris West – cwestlaz@gmail.com
I give this 4/5 Skopes