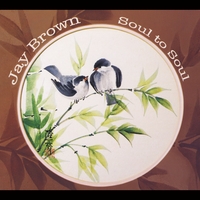 Jay Brown is a musician with a common name that belies an uncommon life of study and performance in locations ranging from Ghana, to Peru, to Swannanoa (wherever that is!). The Carolina native has also blazed a harmonic trail in his own country, bending blues notes in the Big Easy, or launching a jazz improv in the Big Apple.
Though he's able to play with others (and performed alongside such acts as Doc Watson), he chose some six years back to start the Jay Brown One-Man-Band, featuring the dude himself on vocals, guitar, harmonica, percussion, and — more recently — piano.
"Fire In the Sky":
http://youtu.be/a8LCsn1xizM
Brown's latest effort is Soul To Soul, an often poignant album of folk-rock.  
The title track has an endearing melancholy; calming acoustic riffs form a backdrop to a harmonica lead. The lyrics are eminently country in their reflective gloom: "Pain's been a friend to me, been a friend, at least it stuck around / When all the chips are down it won't desert me."
The track "Living Man" is more upbeat, but still reflective, as shown by these lyrics:
"Lord knows we cannot know / The mysterious master plan / But we can feel our way / And we can keep on living."
As for Brown's vocals, a word I would use is "soulful," which I suppose is a bit of a copout, given the album's title.
Soothing, bluesy notes can be heard on "The Way It Ought To Be."
"Down Spiral Blues" has a bit more spunk to it. Brown's vocals have some twang here.
"We're Rolling" has a lot of bluesy Keith Richards-like guitar work. It's hard for me to tell if Brown has a guest musician, or if he just put down multiple layers of his own work.  
Buy:
http://www.jaybrownmusic.com/soultosoulcd.html
"M.O.M." offers a rustic country tenderness.
"Aditi," a track without lyrics, offers the most instrumental experimentation. It sounds vaguely Far East at times (though maybe I think so because of the Indian-sounding title).
Am a fan of the lively piano on "Documentation Blues." Brown really seems to be enjoying himself while performing this track, as well as "Fire In The Sky."
I think just about every listener would find at least something to like about Soul To Soul. And some might even love it: https://soundcloud.com/jay-brown-one-man-band
http://www.jaybrownmusic.com
 
Ray Cavanaugh – owleyesgatsby@yahoo.com