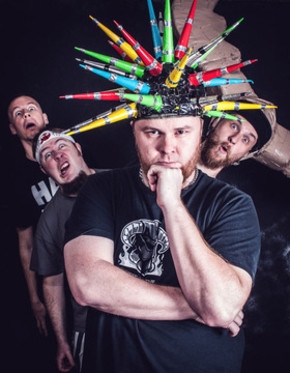 Comedy rockers Psychostick are at it again! Poking fans with another great music video titled 'Sadface', a social media song from their fifth and latest release 'Space Vampires VS Zombie Dinosaurs in 3-D'.
 
"This song declares war on terrible, bitchy, whiney, pointless, attention-seeking posts. If you need someone to listen to your problems, go see a therapist (No… REALLY, stop reading this and go talk to a professional RIGHT NOW)."
 
What I love about this video is the feel. We wanted to feel like you were being yelled at you through the internet to knock that shit off.
Another great thing about this video is how many hidden gems are in it. If you pause the video and take time to read all the mock comments, you will be greatly rewarded." – Psychostick guitarist Josh 'The J' Key
"Sadface"
http://youtu.be/ZsqZl3VqoM4