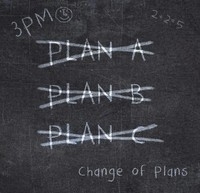 Class is dismissed because it's 3PM and apparently there has been a 'Change of Plans'.   Three young musicians from Baltimore have decided to put together a full-length album titled 'Change of Plans' that will teach you a thing or two.   The most important factors that 3PM stresses are to always have fun no matter what and don't be a square!
"Born To Lose"
http://www.youtube.com/watch?v=C4sHG_y8DIU
3PM is made up of just three members: Brandon Millman on drums, Brennan Stark on bass & vocals and Scott Montgomery on guitar.   At only 15, 17 & 21, 3PM's music definitely matches up with their ages quite well.   The tone & tempo are fast, fun & energetic with that youthful spirit definitely present on the record.   Right away I picked up on a similarity in style & approach to that of Blink-182, but 3PM also takes after such notable acts as: Good Charlotte, Sum 41, Simple Plan, Green Day, Yellowcard and New Found Glory.   I would say that 3PM is a Pop/Rock band with Punk influence all the way.
All 14 tracks on 'Change of Plans' offer plenty of zing & zip and a whole lot of spunk!   From beginning to end it's one big party for 3PM!   Actually, I really feel that this particular CD would do extremely well on the College circuit due to its carefree attitude & good-times atmosphere.   Any one of the songs on the new album would have made perfect additions to the soundtracks for: "American Pie", "Old School" & "Road Trip" just to name a few.
At this beginning stage of their careers, I highly recommend taking advantage of the wide college market out there with a plethora of opportunities awaiting them.   I believe that would be a very smart move for 3PM at this point but if I'm wrong then sue me or just come up with another 'Change of Plans'.   I have to say that as a 3-piece unit 3PM delivers catchy hooks where the vocals & instrumentation are coming together nicely.   3PM is a tight band that plays very well as a trio and you really sense their commitment toward being the best that they can be.   'Change of Plans' is a productive start for 3PM without a doubt, but I'd be curious to see what the next set of plans are for this fun 'n' lively Baltimore bunch.
By Jimmy Rae (jrae2@att.net)
Rating: 4/5 Skopes