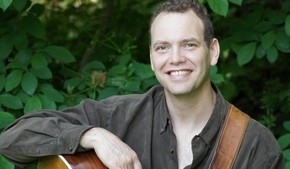 Good morning everyone all over the world, nice to see you all today. I have been reading lately how certain mainstream artists are showing up very late and/or cancelling live shows that fans pay good money to see. This is the most infuriating thing as to why you work to develop a massive fan base and then act like you could care less about your adoring fans time & money. I just read on mi2n.com that for the first six months of 2013, digital albums are up 6.3 percent and Digital tracks were down 2.3 percent. That is interesting as I thought it would be the opposite, but it's still good to see sales coming in. I am so excited to have a musician on today whose music is my truth. Matt Kineke's album 'Watchin' Summertime' is like the perfect soundtrack to a weekend by the lake or wherever you go to escape. Not only is his music right on but his story is just as good so join me as Matt speaks on pursuing music full time, taking 5+ years on the album, playing cover songs live, and so much more!
Stoli: Where are we talking from today and how is your summer going?
Summer is going beautifully here in South Central Pennsylvania. Still some of the must lush abundant farm country anywhere on Earth; I just love it!
Stoli: The summers in the US keep getting hotter. How do you deal with the heat and do you think global warming is at work here?
I drink lots of water, which I believe is very good anyway, especially for anyone who sings regularly.   Global warming?   I don't know. It sure has been hot lately!
Stoli: You were a high school teacher turned full time musician. What inspired you to drop the safe job to pursue your dream and passion in music?
Done properly, the "safe" job was also an enormous commitment in time and energy.   I really enjoyed teaching and interacting with my students, but eventually, I knew my heart was somewhere else; I could not continue to see them every day and pretend otherwise. Still, it was a very tough decision.
Stoli: So many people would love to do just that but are scared with good reason. What advice can you give someone who hates their job and wants to pursue their passion project?
Advice: Life is a tragic and fabulous thing, and contains plenty of each if one pays enough attention. What happened for me was the loss of some dear friends, and the unavoidable realization that I had music to make.   I had always loved singing so much; it was my secret passion.   For years I nurtured it, finally bought a guitar and brought it into the classroom as much as I could, but ultimately I had to ask myself: are you going to develop your music, or focus on being a good teacher and a leader in school?   I couldn't do both, so life demanded a hard choice.
The truth is, no one ever does it alone in any endeavor. So cultivate productive relationships with good people and do whatever you can to avoid negativity.   Decide that if you're really going to risk derailing whatever "safe" conventional life you had planned for yourself, that you care enough to do whatever is necessary to produce your best—and then have the courage to put it out. Anyone who attains any kind of success in any field, does these things.   Bottom line:   the difference between a dream and a fantasy is that a dream can come true, if one has what it takes—usually with lots of hard work, and only with real commitment.   Then, of course, whether people like it or not is out of your hands.   In this game, the difference between fantasy and a dream come true is in the ear of the listener, and all boils down to two words:   "Press play."
Listen: http://www.mattkineke.com/listen.php
Stoli: I am loving your album 'Watchin Summertime.' How did you come up with album album title and how long were you writing abd recording this album?
Album title, The title is part of the refrain to the album's second track: I Am Home.   The complete lyric is: "Watchin' Summertime go by ain't so bad at all."   That's me sitting on the deck enjoying the warm weather and recognizing that   life can be so busy, sometimes that brief moment is all we get.   But we can savor it, if we so choose.
The writing and recording of this album took almost five years, as time and expense allowed.   It continued through the birth and infancy of my son, who slept through several mixing sessions in his Greco car seat on the floor of the studio.   Those were good times.  
Stoli: I see that you can download all the songs/MP3 for free on the album on your site. Do you think that this will effect sales of the album or is this your goal is to just get the music heard?
I have posted portions of each song on my web site.   I hope that people will enjoy them and get a taste of my original music. If they wish to download the songs in their entirety or the complete album, they can purchase these on iTunes, cdbaby, and Amazon.com.
Stoli: You worked with many talented musicians on this album. How do you decide who you need for each track and how do you know all these like minded folks?
The desired emotional effect of each song dictated my approach with respect to instrumentation and the recording process.   I am fortunate that one of the dear friends of my youth happens to be Dave DeMarco, who is a gifted bassist with many years of experience playing live and in the studio. Dave's musical biography is extensive and he led me to many of the musicians who's great performances helped make the album what it is.
I have to mention also, Dave Hadley, who played pedal steel on Leavetaking, Summer Storm, and I'll See You Again, as well as his work on Long Time, made a crucial contributions to this work.   Dave is truly a joy to work with, an extraordinary musician/multi-instrumentalist with years of experience playing all over the country; I was very fortunate my engineer found him online.
Stoli: I am so impressed with how many live shows you have. Do you do all original tunes or do you do covers as well?
Ultimately any artist wants to play his or her own songs.   I'm proud to say I play what I consider to be lots of great songs written by a variety of wonderful artists.      
Stoli: I love your song "Long Time." What inspired you to write that tune and what does it mean to you?
Long time… Longtime came as a stream of consciousness at a very difficult time in my life. Sometimes relationships end in one way, but have to continue in others.   I was up very late one night, and justified it by trying to write a song—about trying to write a song! I didn't see the failing relationship metaphor until long afterward, but I have to admit, the words are all there.
Stoli: I love summertime just like you. My perfect day in summer is on the lake in Maine with beer, BBQ, family, and music. What would be yours and where?
I owe a good friend a day on a lake down south, with lots of greenery, and perhaps a little fishing.   I love Maine too, by the way!
Stoli: What is coming up for Matt Kineke and where you @ online?
I'm continuing to promote "Watchin' Summertime" and performing that, as well as a batch of new songs.  
In addition, we're revamping my online presence at http://mattkineke.com and on http://facebook/mattkineke, cdbaby, and amazon.com, working to create opportunities for fans to participate and give feedback.   Without connecting to the audience, the music can never reach its greatest good.   I believe lots of people enjoy genuinely easy listening music, with clear vocals, and positive imagery.   We're working hard to make that musical connection, which is what it's all about!