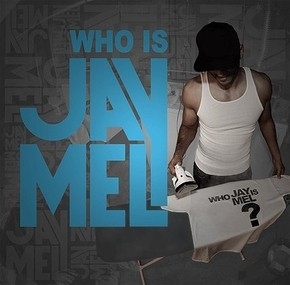 Hello and good morning to all that are amidst this heat wave here in the Northeast USA. There is no doubt that I like it hot! Anyways I will not speak or place an opinion on the Trayvon Martin case but I will say how inspiring it is to see all races come together nomatter what their felling is on the verdict, we are all in this together. I have been saying how the music biz is adapting to the digital/mobile age and I read that SoundExchange announced second-quarter 2013 payments of $149 million. This quarter marks the organization's highest quarterly payment to recording artists and record labels. That is so exiting & amazing to hear! Today I am really excited to have an emcee from Ohio that I not only respect as an emcee but as a man as well. Jay Mel caught my buzz after I saw his "A-Cup" video. I was pleased to see that Jay has a catalog of hot music so I had to have him on. Join us today as Jay Mel speaks on the Jay-Z/Samsung deal, emcees keeping it real, keeping family #1 and so much more!
Stoli: Where are we talking from today and how is your summer going so far?
well i'm actually at my day job waiting for more work to walk in.   this summer has been productive so far with the Ohio Hip Hop Awards tour and other shows keeping me busy, and looking forward to some other shows before this weather is gone. Youngstowns Summer Jam being the next one.
Stoli: How do you feel about Jay-Z releasing his new album as an APP with Samsung and would you consider something like that as well?
jay-z releasing his cd through the Galaxy is completely smart.   if i had the opportunity to do something like that it would be a no brainer.   the CD gets in everyone's hands without them having to work to get it.   as album sales are concerned, i don't think that jay is worried about those numbers anymore.   the music and his other business ventures speak for themselves.
Stoli: How did you get into hip hop and when did it become more than a hobby and more like a career?
i started writing raps in church. a friend and i would pass paper back and forth writing every other bar.   we called ourselves "formulate".. his name was "Big-D" and mine was "Jay Dogg"… we were 12 though so these names were acceptable. haha
Stoli: When you are looking for beats who do you go to and can upcoming producers offer up beats to you as well?
i need beats. i have 2-3 people i'm working with right now. Roger beats, Tyler Harden (both from my hometown) and another out of Cincinnati, Kick Lee.   But, i am always looking for new music!!
Stoli: I am really loving your new single "A-Cup." What is that song about and who came up with the video concept?
i mean, the song isn't about anything in particular, it was just a really dope beat and i wanted to come on it showing my skill in that style.   The video was basic, no thought at all on a concept, my guy Tom Larkin from Pittsburgh is just amazing with his editing and camera work.
Jay – Mel: A-Cup: http://www.youtube.com/watch?v=etpFGzazjXc
Stoli: You have an impressive catalog of music. What inspires you to sit down and write and what kind od mood must you be in?
music changes with time and place in life.. i work full time have a son while i'm trying to make this music work. Some days i feel good about where i'm getting and others it's a struggle with having a full plate. my general inspiration is just saying that i did something that realistically is an unconquerable field.   so many people come and go in music.   i've been steady and only getting better which is now driving me more than ever to make the best music possible.
Stoli: Would you say that technology and social media have made it easier or harder to get exposure and how do you seperate from the pack?
in my opinion, the only people that have really gained a ton of ground from social media are the talent-less ones. the one hit wonders that make a jig and dance become successful while so many talented people go unnoticed because they're thrown into the sea of other "artists".   what separates me from others is the few people i have around me that are driven and real business minded.   everything i do is professional from the moment i start writing down to the last conversation after a performance.
Stoli: What does being an emcee offer your life personally and what goals are you truly doing this for?
i guess just being able to talk to groups easily.   i used to get detentions for being the class clown and i guess it's starting to finally pay off.   the cliche goal is money, but it's reality.   i want nice things like everyone else but i just don't want to work a 9-5 to get them.   i also want people to see that you don't have to do what society says is the "right thing".   you make your own bed so why should someone else tell you what time you're supposed to sleep in it?
Stoli: I feel like many emcees do not speak truth on the tracks. How important is it to you to be real with fans during these tough times in the US and worldwide?
why lie in your music?   at the end of the day nobody that i know relates to waking up in a bugatti, or having so many diamonds that their neck actually froze off.   being yourself is the easiest way to get respect and the easiest way to never have to cover up for any fronts.
Stoli: When I come kick it with you in Youngstown, OH what will be do and go to see live hip hop music?
the public music scene in Youngstown is pretty weak, not a lot of support in any genre and theirs no real "music venue".   it's sad because their really are a lot of very talented musicians in all categories of music around here.
Stoli: When you are not doing music do you have family/school/work to deal with and how do you balance life?
family is extremely important to me.   i work full time and have a 5 year old son that happily takes up my free time.   my family is good with helping out watching him so i am able to still have some fun. i don't party though, i'd rather spend my time camping, riding four wheelers, working on cars, traveling and hunting.
Stoli: Do you enjoy other genres besides hip hop and any artsts that you are feeling these days?
i do like rock music, ive played drums for around 15 years and also played the piano for a few.   i don't listen to much radio, it's all just exact platformed versions of the song that just played before it.   but drake is an undeniable talent.   he's probably my favorite living artist.
Stoli: What is coming up for Jay Mel and where you at online?
shows and releasing more music videos. all of my information is on http://JAYMEL.COM. that's from my pandora station, twitter, youtube, facebook and instagram!