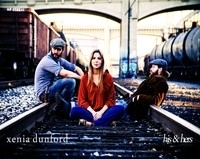 Xenia Dunford is back and better than ever on her brand new full-length album titled 'His & Hers'.   I had the pleasure to review Xenia's last EP (http://www.skopemag.com/2012/04/26/xenia-dunford-the-eastern-exile-lonely-streets) in 2012 and I knew last year that I hadn't heard the last of this Xenia Dunford.   With such a phenomenal voice and thought-provoking lyrics, there was no way you were gonna keep this Xenia down and out of the music scene.   I stand by what I said in the last review, which is: "Xenia does seem to have a real charm about her vocally and she is also lyrically-sound."   Xenia is the real deal and she truly is the total package when it comes to quality singer/songwriters.  
"Best I've Ever Had"
http://www.youtube.com/watch?v=Atp7nrcTe3M
Just as before, Dunford mixes in a wide range of styles & genres such as: Soul Pop, Country, Blues, Rock/Soft Rock, Folk and Jazz.   This is what I loved on the 'Lonely Streets' EP where Xenia Dunford & The Eastern Exile mixed it all in nicely.   On this record you have Xenia on lead vocals & piano, Scotty Mlodzinski on lead guitar, Forrest Pettengill on bass and Adam Farley on drums along with many other talented musicians making solid contributions.   The title of the album 'His & Hers' really lies within Xenia and Scotty being the sole songwriters so then what you have in the end is a record with a little bit of "Hers" and also a little bit of "His".   It's a something-for-everyone kind of record where everybody's happy!   Every single song on this album was constructed marvelously with major attention to detail.   Right away on the opening number "Rhyme & Reason" you're getting hit head on with distinct, polished vocals & powerful chops, a soulful, eased-back style & catchy appeal to go along with elements of Pop, Rock & Blues.   Mind you that all of this is happening as soon as you hit play but this incredible display of diverse excitement would continue on throughout the 12-Song set.   And it's worth noting that 'His & Hers' features nine new tracks and three from the 'Lonely Streets' EP.   As the disc rolls along one will experience a bluesy & delicate approach vocally on "The World Is Yours" and then get ready for some crazy-good guitar picking on "Best I've Ever Had".   The song "High & Dry" offers up a sweet 'n' salty tone while the listener will pick up on Xenia pouring a ton of emotion into her performance on "A Way About You".   Xenia gives a standout moment on "Home Waits For Me" that is extremely intimate & sensitive followed by "More Than You Know" that shows you how to close the show with authority.
Xenia Dunford and her talented bandmates are most certainly in control of the situation at hand and so their future looks very promising.   The situation is simply to create great music that can relate to people and catch on in a big way.   Xenia & company are doing just that and then some with Dunford singing her heart out coming up with material that hits you & speaks out loud.   Xenia sings with such a joy in her voice that is really indescribable unless you hear it yourself.   And then throw in the top-notch songwriting team of Xenia & Scotty Mlodzinski and you got yourself your very own 'His & Hers'.  
Xenia Dunford and her band have been picking up steam to say the least with a song off of her debut EP being featured on the ABC show "Revenge", an appearance at the Canadian Music Festival in Toronto and many upcoming shows & events as they hit the road.   Actually, Xenia and her squad will be hitting a ton of spots on the Eastern Seaboard this summer including: The Block Island Music Festival in Block Island, Rhode Island on Father's Day, June 16, 2013, and also the Black Potatoe Music Festival in Clinton, NJ on Friday, July 12 where Xenia will be opening up for Eilen Jewell.   You can find a full listing of upcoming shows at: http://www.xeniadunford.com/news.   And don't forgot that you can find out more about Xenia Dunford and even buy the new album 'His & Hers' right on her website!   I highly recommend this record to anyone because it's got a little bit of this and a little bit of that and a whole lot of good-sounding, substance-heavy, professional music!
www.xeniadunford.com.  
By Jimmy Rae + (jrae2@att.net)
Rating: 5/5