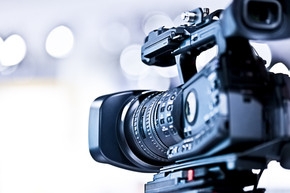 Video production or 'videography' is the process of capturing moving images and then manipulating them. It can be used to describe the work of those who make music videos, those who make advertisements and those who create footage for broadcast on television and the internet. In essence, it involves the exact same aspects as film making — except that footage produced via videography is recorded electronically instead of transferred onto film stock.
In today's world of increasingly instant content, video production reigns supreme. Everybody wants to be a producer. It's a job that's as diverse as it is rewarding and as exciting as it is respected. What it is n't though, is easy — despite what the uninitiated might think. Video production often does involve famous names and faces. It can include trips to glamorous locations or spending all afternoon photographing supermodels. On the other hand, you're just as likely to end up shooting in a Watford car park as you are in Monaco. Your hours will be long. Your shoots will be punishing.
Video production certainly isn't a walk in the park. There are three distinct stages involved in successful video production. These stages are pre-production, production and post-production. Imaginative bunch, video producers.
Pre-Production
This stage incorporates all of the planning necessary to carry out a successful shoot. The main aim of a production must be established before any footage can be shot. This is done via a two way process — the first step being what the client wants and the second being what the video production team themselves can bring to the table. A good video producer maintains communication with the client at all times. He or she is very aware of what that client wants and knows how to balance their own input with what is included in the brief.
A storyboard or treatment must be drawn up and presented to the client, before a camera crew can begin shooting. According to mediacollege.com, this can be considered as a process all of its own if necessary.
Production (Shooting)
All locations are decided upon during pre-production, allowing the production process to get off the ground as quickly as possible. Transporting an entire camera crew, a cast, a sound team and a whole host of assistants is no mean feat — it can be very stressful and very chaotic if not organised well. A video producer must not only have nerves of steel, but a calm and patient manner — especially when shooting in close proximity to the general public, who do have a tendency to stare, interrupt and get involved without permission. Videomaker.com journalist Michael Fitzer suggests that camera crews get acquainted with locations well before the day of the shoot.
If it's a very small shoot, all necessary footage can be shot on the day. Larger jobs however, can run on for several weeks or even months — so, it's vital that a video producer gets on well with his or her team.
Post Production
The production process might appear to be the most important stage of a job, but this is just because it tends to be the most high profile. It is post-production that can really make or break a project, say the experts at Top line Communication. In post-production, the collected footage is edited into a logical sequence. This 'edit' does n't necessarily have to be a linear one, though some clients do request that post-production teams create a final piece using footage that has been sequentially shot.
Once the framework of the 'video' has been decided upon, the client can be asked for their input regarding style, key messages and general impact. Several different edits may be created during this time, one of which will be chosen as the 'master edit.' Once the master edit has been chosen, it is recorded in whichever way the client feels is best. Voila — another project is complete.
There's much talk about the 'art' of video production and it is true that it requires a large amount of skill, creativity and imagination. It's not for everyone — only certain types of people can make great video production filmmakers. However, it is the art of the grafter that is often overlooked when it comes to video production — the art of hard work and dedication.
 
Author Bio:
Emily Steve is a studio manager as well as she loves to write blogs on various topics. She uses Karma Crew when she needs the help of a highly skilled camera crew to assist .