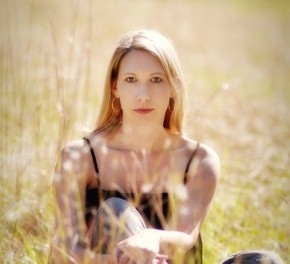 Holly Gentry is a southern Georgia native who gained a vocal scholarship to Wake Forest, but suppressed her musical tendencies as she proceeded to study and practice law. Eventually, however, she indulged her musical side, convinced that she had "so much more" to offer. Resulting from this existential choice is her full-length indie debut album, So Much More. Skope recently tracked her down to ask some questions…
 
I've profiled a fair share of artists by now, and, to my knowledge, you are the first ex-lawyer. Was there a final straw event that made you forsake the lawyerly vocation ?
Actually, I'm still a practicing attorney, so I haven't forsaken it completely.   I just don't think the law is the right path for me.   Just because you can do something, doesn't necessarily mean you should.   I didn't enjoy law school, and was uncomfortable and anxious for the entire three years.   The same hold true for the majority of my years in practice.   I've just always felt anxious and uneasy doing the work.   So, no real final straw.
 
How long did you practice ?
I've been in practice since 2002.
 
Were there any sharp reactions from your colleagues?
Not really. I left the larger firm environment several years ago and was not as active in my musical pursuits at the time.   Most of my colleagues to this day don't understand where I am in my music career.   Primarily, people have been supportive and somewhat amused.   There are lots of frustrated artists and musicians in the legal profession!
 
You speak so highly of vocal coach Rhetta Butler. What exactly did she do for you — did she increase your octave range ?
Rhetta has helped me find my artistic soul and taught me to express it through my music.   Before Rhetta, I didn't sound like "Holly Gentry."   My voice and my music didn't reflect what I was trying to convey from the inside.   She helped me take my voice from "trained singer" to "artist," and in the process my range has increased and my voice has become warmer and more flexible.   Rhetta is also instrumental in my song writing.   She encouraged me to write on a more professional level and saw the singer-songwriter in me before I could.  
 
What is a real-life example of "selling out faster than a Justin Timberlake show"?
Me! Here I am still slogging away in lawyer land when I really want to drop it all and focus on my music full time.
 
Who are your most prominent influences?
Aside from Rhetta Butler, my most prominent influences are Pat Benatar, Stevie Nicks, Rory Bloch, Deana Carter, Brandi Carlile, The Eagles, Tom Petty and the Heartbreakers and the majority of female country singers who rose to fame in the 90's.
 
Are you playing any of the guitar on your album?
No – my producer Brain Molin played lead guitar.
 
Do you perform live frequently?
It's been awhile, but I'm saddling back up.   I have a four year-old and a one year-old, and moved twice in the last 18 months, so performing has been on the backburner.   But I'm about to hit the open mics around town to get my sea legs, and then move on to shows from there.
 
Anything else you care to share?
I wish I had the courage as a young(er) woman to follow my passion instead of doing what I thought logically made sense.   This is one lesson I want to instill in my children.
 
All interested parties are encouraged to visit: http://www.cdbaby.com/cd/hollygentry
Or at least journey to: http://hollygentry.com/
And for a review of Gentry's album, take a peek:
http://www.skopemag.com/2013/02/06/holly-gentry-so-much-more
Ray Cavanaugh – owleyesgatsby@yahoo.com