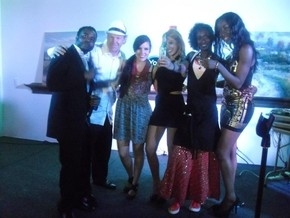 APPETIZER: As summer approaches, I impress upon you to stay abreast of what's going on with my favorite people, like the Georgia Music Industry Association, where THE SONGWRITER comes first! We're making some BIG THINGS happen, so log on and JOIN at www.gmia.org.
My other favorite people include the ANYTHING BUT MONDAY girls. This hit group from London are the first women in the world to own a beer company – MIROSA BEER. MIROSA is a premium import strategically priced between Heineken and Corona, and has already been approved in major grocery store chains like PUBLIX and KROGERS.  
MAIN COURSE: As a unique and unprecedented marketing strategy, the girls are giving out private pre-IPO shares in their beer company to everyone who comes to their parties. They did it at the Buckhead End of the Millennium Mansion Party in December 2012, the Welcome to America Party in March 2013 and once again, on May 10th. The ANYTHING BUT MONDAY – MIROSA BEER COMPANY party was held on Friday, May 10th at the gorgeous Gallery Events Banquet Hall in partnership with You Stream Radio. My good friend, former Ruffhouse Records big-wig, Stephen Stone says, "This was one of the most amazing events in the history of corporate America.   The girls gave away 25 shares of stock in their beer company to everyone who came – no company has ever done anything like this before, and we invited FORBES and the WALL STREET JOURNAL there to cover it!!!!!!
As an added treat, ANYTHING BUT MONDAY autographed 6 packs of Mirosa Beer. Plus, they had free food provided with terrific entertainment, including comedy troupe STRANGE GROOVE, the supertalented DJ Syntronik, and live performers DOJA, JOHN DOE,   LOVELY JOURNEY, NANNETTE THE TRUTH HURTS, WARREN J. GALLIMORE, DE LISE,   KENDRA KING and GROOVE ASSYLUM. As headliners, ANYTHING BUT MONDAY performed their latest hit release, 99 BOTTLES OF BEER!!!!
For those of you who have been to one of the Anything But Monday parties before, you know that all the movers and shakers of both the entertainment industry and the beverage industry show up, because nobody throws an event like ANYTHING BUT MONDAY.   Seriously!!!!
DESERT: Watch out for the printed paper version of my MUSICOLOGY 2101 book, coming your way next with the Official Song of Musicology, Kimosha LeToi's "EYES STUCK ON ME"!
MP3 — Kimosha-Eyes – www.reverbnation.com/kimo1atpcr
PIC — ABM Party, STEPHEN STONE & ABM
VIDEO — MUSICOLOGY – http://youtu.be/Zn2eCbAOaUA
By: LA Jackson – musicmon101@gmail.com