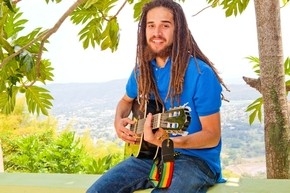 The fast rising contemporary reggae artiste Keznamdi has been blazing a trail across the musical landscape with thought provoking lyrics woven together to form infectious melodies and has now heralded his arrival to the reggae scene by releasing his first EP, appropriately dubbed, Bridging the Gap.
Watch Keznamdi: http://www.youtube.com/user/keznamdi/videos
Listen to Keznamdi: https://soundcloud.com/keznamdi
Keznamdi, who has been winning fans on both sides of the Atlantic, sees Bridging the Gap as a good chronicle of his musical and spiritually development through reggae: "Bridging the Gap means bridging all generations, all nations, and all cultures together through the music.   Music is my life and the issues on the EP are topics that affect me to varying levels".
Through Bridging the Gap , Keznamdi focuses on issues that appeal to all classes, races and age groups. The EP is sewn together with social commentary and thoughts on man's interaction with each other with a fair amount of questions and answers on male and female relationships.