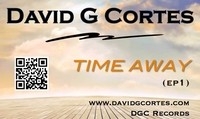 Mexican native and Houston resident David G. Cortes went from drums to guitar, to piano, and finally to bass. Having gained proficiency in these four instruments, he also acquired the tech savvy to record each, and then blend them into a vibrant medley for his EP Time Away.
"And Then I Met You" has an interesting chord progression that could almost sound a tad haunting if it weren't for the devotionally romantic lyrics involving a "beautiful smile" and "precious love."
The devotion gets somewhat more emphatic for the track "Call to Me," in which the speaker yearns for the object of his passion, "Please return to me." He also seems a bit unsure of his predicament: "Everybody seems to know now / But I don't even know myself."
"Come Back Home" begins with a rather dramatic synthesizer buildup. A pleasing acoustic melody proceeds to take effect. The speaker, camped out in his dwelling, awaits the return of his beloved. It seems he's in it for the long haul: "So if it takes me all year long / Come back home."
"Como Quisiera" is quite a bit more perky, as it expresses some of that Spanish flair. Being an ignorant American, I haven't the foggiest clue what any of the lyrics mean. However, my mind wanders to a Cabo San Lucas ballroom, where Salma Hayek is helping me shake my hips to the inviting rhythm of the percussion riffs.
"About You" sure gets off to a bouncin' start. The background guitar track is quite charming, in a different sort of way that I can't quite pin down. About 2:10 in, the sounds start to get a bit trippy, not in any narcotic sense, just in the sense of musical revelry.
From appearing on MTV with his former band Phases, to strumming "La Bamba" all winter in a Paris subway, Cortes has known success and hardship.
With influences from Beethoven to Sting, he has a rather extensive palette from which to operate. Behold the sonic colors at: https://itunes.apple.com/us/album/and-then-i-met-you/id549620624?i=549620705
Rumor has it that another EP is in the works. Feel free to investigate at:
http://www.davidgcortes.com/#!songs-released/c22j5
https://www.facebook.com/DavidGCortesDGC
 
Ray Cavanaugh – owleyesgatsby@yahoo.com